"Hello, Beautiful!"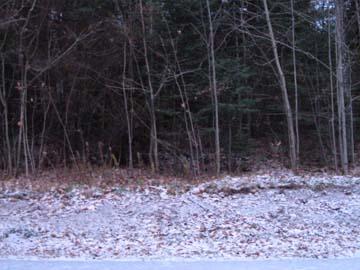 Those were the words my daughter uttered last night when she saw her first snowflake of the season. We were having a quick and easy meal in Lake Placid after a ski shop tour for new skate skis for my biathlon-training son. Suddenly my daughter pressed her nose against the glass and yells, "Hello Beautiful!" Sure enough, there was the snow we've been waiting for.
There has been snow on some of the Adirondack High Peaks for a while but we haven't had the time to get back there to it. We have been waiting for the snow to come to us.
"Red Sky in morning, sailor takes warning. Red sky at night, sailor's delight." (substitute sailor for skier, hiker or anyone else waiting for snow!)
The red sky at night certainly kept its folktale promise.
We have been ready for the snow for weeks. Jackets, boots, hats and gloves are all lined up waiting for a snowball fight. We've checked our gear twice and have started combing the ski shops for sales and bargains.
There isn't enough snow to require special footwear yet on walking and hiking trails. In the Adirondack High Peaks Wilderness areas and other multi-use trails the Department of Environmental Conservation requires that skies or snowshoes are used "when the terrain is covered with 8 or more inches of snow."
During this transition from autumn to winter we take the time to go on some easy trails and watch the squirrels and chipmunks making a last scramble for food supplies. Watch for ice! It can be hidden in the most unlikely of places. With this most recent dusting of snow, animal tracks will be easy to spot.
After our meal, my kids run outside to catch snowflakes on their tongues and try to gather enough snow for a snowman. Each quickly volunteers their snowman's body for a snowball fight instead.  Snow is on the way! 
Diane's first guidebook, Adirondack Family Time High Peaks/Tri-Lakes Regions: Your Four-Season Guide to over 300 activities (with GPS coordinates) covering the towns of Lake Placid, Saranac Lake, Tupper Lake, Jay/Upper Jay, Keene/Keene Valley and Wilmington. This edition covers 33 easy hikes, 19 swimming holes and beaches, 21 historic venues, free ice skating spots, snowshoe trails, Cross-country ski trails and more. This is the first is a series of four books covering all regions of the Adirondack Park. She is currently researching the next books of Adirondack Family Activities.