During the summer months in the North Country, we are very fortunate to have a host of farmer's markets to choose from almost every day of the week. A trip to your local farmer's market is a great way to spend part of a day, not just for the shopping, but for the social aspect as well. Farmers and producers love to talk about their products and love meeting new customers as well. If you ask some good questions, I guarantee you'll also learn something new, too.
Farming history in North Elba (the township in which Lake Placid lies) dates to 1800, when Elijah Bennett, our first farming family arrived here in the North Country to take up residence. The Bennetts were quickly joined by other farming pioneers and by 1810 the population was around 200. Today, several farms still exist in North Elba, the largest of which are seed potato farms. One of these farms is highly visible as the foreground in many photographs taken by visitors of the High Peaks along Route 73 near Adirondack Loj Rd.
The bountiful and colorful supply of produce, meats, maple syrup, honey, jams, jellies, hand crafts and much more spills out of temporary booths set up for the day at each market location. Northern New York State, especially the Champlain Valley, is blessed with extremely rich farmlands capable of supplying the ever-growing demand for locally grown or produced food products. Supporting local growers is also important for helping to ensure our food sources remain a vital part of our communities. The demand for foods from which we know the source is growing at an amazing rate. Our local farmers are committed to keeping up with the demand and they provide an wide selection of products for farmers working within the limits of such a short growing season. They have innovated many growing techniques to extend the growing season, some well into the winter months!
Several local farmers have farm stands in addition to selling at the markets. You can find out who has farm stands by visiting them at a local market and inquiring. Visiting a farm stand is a great experience. Some farms even offer tours of their farming operations.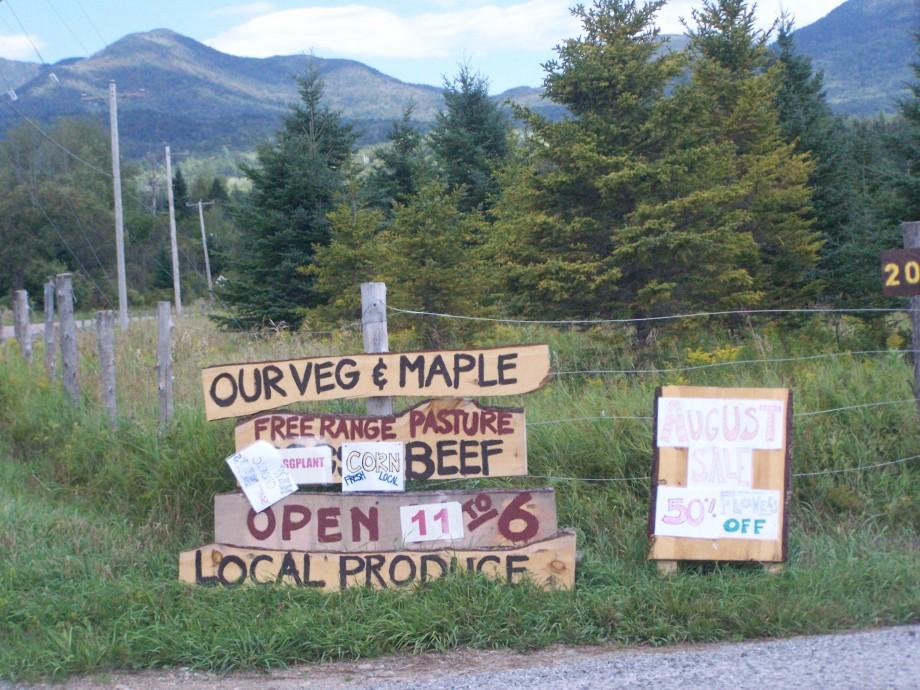 Many markets have vendors offering organically prepared foods, so you can have lunch while you're browsing the market. Most all the food vendors offer samples as well.
Get out some day this week and visit a local farmers market. You'll have an amazing dinner ahead of you afterwards!  And the best part is that you'll get lots of local foods, but  you're sure to get some great local color as well.
Essex County currently plays host to nine different farmer's markets:
Ausable Forks - Adjacent to the TLC in the Riverside Park. Manager: Sam Hendren (518)
834-7306. +
Date: Fridays, June 24 through Sept. 2, 2011 4:00-7:00 + * #
Elizabethtown - Behind the Adirondack History Center Museum. Manager: Gina Agoney (518)293-7877.
Web Site: adirondackfarmersmarket.com +
Date: Fridays, May 20 through October 14, 2011 9:00-1:00
Essex - Behind the Essex town hall. Manager Sam Hendren (518) 834-7306. +
Date: Sundays, June 26 through Sept. 4, 2011 10:00-2:00
Keene - Marcy Airfield between Keene and Keene Valley on Route 73. Manager: Dick
Crawford (518) 561-7167.
Web Site: adirondackfarmersmarket.com +
Date: Sundays, June 19 through Oct. 9, 2011 9:30-2:00
Lake Placid - Lake Placid Center for the Arts. Manager: Sam Hendren (518) 834-7306. Web
Site: lakeplacidfarmersmarket.com +*#
Date: Wednesdays, June 1 through Sept. 28, 2011 9:00-1:00
Port Henry - Boni's Bistro parking lot, Main St. Manager: Kelly Ann King (518) 546-4083.
Web Site: adirondackfarmersmarket.com +
Date: Wednesdays, June 8 through Sept. 28, 2011 10:00-2:00
Schroon Lake - Town Hall parking lot. Market contact: Sam Hendren (518) 834-7306. +
Date: Mondays, June 27 through Sept. 5, 2011 9:00-1:00
Ticonderoga - Corner of Montcalm & 9N, SW of Moses Circle. Contact: Matthew Courtright
(518) 585-6619.
Date: Saturdays, June 25 through October 1, 2011 10:00-1:00
Willsboro - Across from the old Mountain View restaurant on Rte.22. Manager: Linda
Therrien (518) 963-4383.
Web Site: adirondackfarmersmarket.com +
Date: Thursdays, June 16 through Sept. 8, 2011 9:00-1:00