Fishing is a spiritual journey for some and an obsession for others. Some people spend their lifetime trying to catch that elusive fish while others just end up rowing the boat. What is the fun in fishing? I asked my husband and children as we gather up the gear to take visitors for an outing to celebrate New York State (NYS) Free Fishing Weekend June 25-26, 2011. This annual event started in 1991 as a chance for anyone to attempt fishing. No fishing license is required and it's a wonderful opportunity to give the sport of fishing a chance.
My husband grew up fishing and shares the love with both our children. My son likes the competition while my daughter likes to wear her fishing vest. She also likes casting and reeling in her line but wants to make sure I let people know she has a very cool,multi-pocketed fishing vest. (Note taken.)
NYS doesn't give much away for free so when opportunity presents itself, take advantage by testing the waters around the Adirondacks. You don't need to limit yourself to fishing the Chubb River, Lake Placid or Mirror Lake around Lake Placid but can take advantage of over 3,000 lakes and ponds in the Adirondack Park.
Everyone will have their own secret zone but the NYS Dept. of Environmental Conservation is sharing its fishing spots around Essex, Clinton and Franklin counties as well as the Ausable River. Why not take advantage and relax by a stream or on a pond, casting for some of the various strains of stocked breed and wild catch.
Even though you don't need a NYS fishing license this weekend, perhaps a bit of guidance is necessary. There are certainly plenty of guides, gear and boating businesses around that offer the perfect opportunity from novice to expert to enjoy the Adirondack waters.
I may not have much experience catching of fish, but I have plenty of experience eating it. I am pit crew and sandwichmaker for my fishy family. Fishing is one activity my children look forward to each time we go. They learn patience and how to deal with disappointment when "the big one" gets away. Most of all they are out in nature and moving at a slower pace.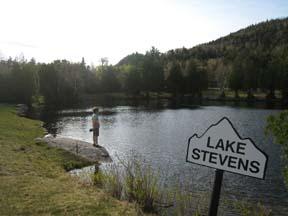 Adirondack Family Time Tip: Children always fish for free in New York State through their fifteen year. Don't forget Lake Steven in Wilmington (at the foot of Whiteface Memorial Highway) is stocked exclusively for children and those with disabilities.
all photos and content © Diane Chase, author of Adirondack Family Time: Tri-Lakes & High Peaks (Your Four-Season Family Guide to Over 300 Activities)