T
here I was, staring straight into the eye of the 8 foot wave
, its powerful mass about to break over the bow of our comparatively small inflated raft. I remembered what our guide had said earlier when he spied another group in an even smaller raft than ours: "We're gonna need a bigger boat for where we're going."
It was then that I heard his voice again. "All ahead- HARD!" and I turned my head briefly to see our experienced licensed guide, Wayne Failing, riding high above my head at the stern of the boat, tie-dye-colored paddle over his head. "Back LEFT" he yelled, as I returned to paddling along with my 7 other crewmates, just as he had instructed us to do. His leadership conveyed us from the brink of sure disaster, as we expertly turned the raft to avoid a hydraulic optimistically called "the black hole". These hydraulics, strainers, eddies and rocks blended into the sea of waves to my untrained eye, but to our experienced licensed guide, this was all just another opportunity to expose some new friends to this part of the Hudson River.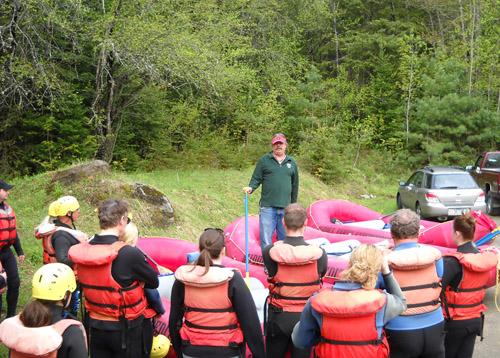 This year marks the record for high water on the Hudson River at this time. What are usually class III rapids are mighty class IV and V rapids this week. We were in for a unique opportunity, in that these conditions usually only occur earlier in the season, when the water and air are much colder.
The whitewater rafting trip begins on shore. There, next to the rafts, we received instruction about positioning and paddling commands, followed by a very serious lecture about safety, expectations in the event that you fall out of the boat, and my favorite heart-pounding part of the talk; self-rescue. We all, in our wet suits and helmets, then headed down to the river.
The trip begins in the Indian River (near Indian Lake, NY). The river is regulated by a dam which is purposely opened by the Town for whitewater rafting. There we joined a number of rafting companies, all launching from the same entry point that is calm enough to allow a little practice session for each crew.
The tour is 17 miles in total - and it sure was as riveting as advertised. The trip, which is a favorite for families in high summer, allowing all to jump in and swim frequently along a much slower, calmer series of rapids over the course of about four hours, took only a couple of hours in the high water volume conditions.
As we plummeted through rapids such as The Narrows, Big Nasty, Giveny's Riff, Harris Riff and more, Wayne simultaneously regaled us with entertaining tales I almost believed, and imparted his knowledge of the river's natural history, not to mention its present.
The ride eventually ended at a bend in the river. We assisted in the take-out, carrying the raft out of the water to the waiting trailer. We then changed into our dry clothes, and ate a hearty lunch by the river, feeling a crazy mix of energy and exhaustion.
I wholeheartedly recommend hiring a
licensed Adirondack guide
for this type of adventure. Wayne Failing is Middle Earth Expeditions' primary guide and owner, and he's been doing this for over 30 years. In addition to whitewater rafting, he is an expert in climbing, backpacking, canoeing, skiing, hunting, fishing, rafting, and studying the flora, fauna, weather and history of the Adirondack Mountains.
As an adventurer, Wayne has traveled, sailed, and climbed extensively around the world including three international expeditions of the highest mountains in North America and the European Alps.  He is a graduate of the Mountain Leadership Training Course in Colorado and has been trained in rock climbing, mountaineering skills, emergency care, search and evacuation techniques, wilderness ethics, and human relations training relative to wilderness instruction, and is certified in Advanced First Aid, Basic Water Safety and C.P.R.
He willingly admits to his limitations, though:
 "I can kill a bear with a pocket knife, but I can't optimize my website for search engines."
Well, that's where we come in. Here's more information about Adirondack whitewater rafting.