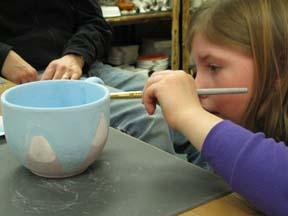 By Diane Chase
Mud Season? Bah! We always find something to do whether it is splashing around in the mud or making pies with it.
We can't always stay outside so it's just as important to know some great inside activities around Lake Placid, Wilmington and the rest of the High Peaks. We are often out on hikes or enjoying a springtime Adirondack paddle but we still like to sit back and relax. Thankfully there are a lot of things to do when it's mud season or just a rainy day.
Brush On In is a paint-your-own ceramic studio at 2520 Main Street in Lake Placid that we found to be a fun diversion anytime. The studio is a bright, wide-open space with tables and chairs scattered about. Along one wall are pieces ranging from small knick-knacks to serving platters all gleaming white, waiting to be painted. Each object is individually priced with an additional studio fee of $9 for adults and $7 for children which covers the firing, glaze and paint.
For April, Brush On In is offering a variety of children/tween/teen events.There will be an Easter Egg Hunt on April 16th from 12-4 with discounts on pottery and a contest to win a free bisque piece. A Palette Plate Camp on April 18th allows children ages 7 and up the opportunity to create their own fun palette-shaped plate. There are also diva nights for those needing a bit of girl time and even father/daughter nights. For complete details call the studio at 518-523-6554.
For my kids the most challenging task, after choosing a new cereal bowl, was selecting the paint colors. A bulletin board has all the samples and shades of paint along with various stamps to use if painting freehand isn't comfortable. My daughter chooses all shades of blue to paint a series of mountains around her bowl while my son goes all bold colors and geometric shapes for his. The kids are so focused on getting their design perfect that we leave them to their artistic endeavors and get a quick tour of the firing process in the back room.
The children are asked if they would like to have their handprints on the wall to commemorate the visit. They answer with a unanimous "Yes!" Soon their prints join other children's from around the world that have entered Brush On In to spend a few hours making memories.
The process is fun and the kids also learn that not everything is instantaneous. They finish their piece and the bowls are placed on the rack to dry, be glazed, and fired. Then their ceramic pieces will be ready for pick up or shipped in a few days. It will be worth the wait.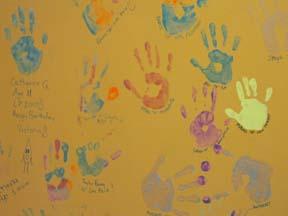 Adirondack Family Time Tip: Brush On In! hosts various "camps" that allow parents to drop children off with a snack and pick them up after the activity is over. Each camp runs about 1 ½ hours, plenty of time to shop along Main Street or have a cup of tea overlooking Mirror Lake!
all photos © Diane Chase, Adirondack Family Time. Diane Chase is a freelance writer and author of Adirondack Family Time: Your Four-Season Guide to Over 300 activities in Lake Placid,Saranac Lake, Tupper Lake and the High Peaks which includes easy hikes,historic site, snowshoe/XC trails, ice skating rinks, swimming holes and more. Her second Adirondack Family Time book will come out summer 2012 and cover the Adirondack Lake Champlain area from Plattsburgh to Ticonderoga.