Families come in all shapes and sizes and the challenging thing, without driving ourselves crazy or being a short-order cook for activities, is to please most of us. Story time activities may still fit my daughter so my son attends and just reads a book. We attend Biathlons that do not interest my daughter so she finds other ways to entertain herself. There are also those activities that we transition into as our family changes with age and interest.
Seeing a play is something they both can agree upon. The live performances that my children have attended range from shows on Broadway to the Adirondack's only year-round professional theatre, Pendragon Theatre, located just minutes from Lake Placid, and a bunch of places in between. Each March Pendragon Theatre offers to the public something new whether introducing a new director, play or original work. For me this opportunity highlights the importance of live theatre. When seeing a movie the audience misses all that goes into the making of the film and can only catch a glimpse when the credits role with job descriptions that most of the time have little meaning. Theatre gives us the chance to see a collaborative effort where the special effects are human generated.
This year's recipient of Pendragon's New Directions program is Ann Marie Gardinier Halstead. On sabbatical from St. Lawrence University, Halstead will direct her first full stage Pendragon production of Steven Diez's play Private Eyes. She has previously directed a staged reading for Pendragon, as well as acted in performances.
According to Halstead, Private Eyes is well-written and funny with one character that is larger than life. Constantly throughout the performance the audience is going to guess what is real and what isn't. "Just when you think you know which direction the characters are going, the play takes a twist and surprises the audience with something unexpected."
So for those with an older family, Halstead gives high school students and adults a chance to see a clever production that engages the audience in a play within a play within a play with quick-witted banter that keeps people guessing.
"This play demonstrates the fine line between where art and real life begins," says Halstead. "That is one of the questions asked in this play. The audience is tricked into believe one thing and then pushed in a different direction. As a repertory theatre, Pendragon is dedicated and shares the same mission to entertain and to get the audience to think about what they are seeing. They continually create characters that are compelling. The intimate theatre setting is the perfect place for this production. I am thrilled to be directing this play here."
Tickets to Private Eyes are a special rate of $12 for all performances. Opening night is Friday, March 18th with additional shows on March 19, 25, 26 and 20th. All performances are at 7:30 p.m.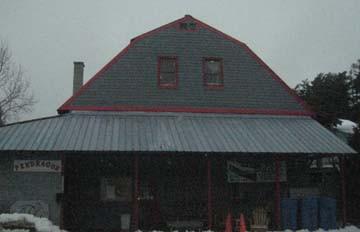 Adirondack Family Time Tip: On Mother's Day, Pendragon Theatre, 15 Brandy Brook Avenue, Saranac Lake gives free admission to all mothers when accompanied by a child. This year's spring production will be Stuart Little. 
All photos of Private Eyes are used with permission from Pendragon Theatre. The photo of Pendragon Theatre and content is © Diane Chase, author of the Adirondack Family Activities™ guidebook series, Adirondack Family Time™ and co-owner of the young adult, backcountry wilderness adventure program, Adirondack Outdoor Expeditions.