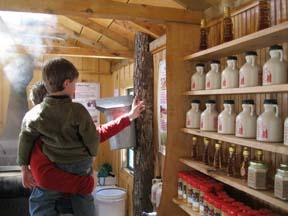 Making maple syrup is not for the faint-of-heart. It is hardwork, challenging and requires dedication. It is also rewarding, educational and fun. After a brief maple educational experience around our house I learned I was not ready to step into a maple making business. My memory pictures my husband venturing deeper into the woods, tapping trees while I collected the sap in 10-gallon buckets via a jury-rigged milkmaid neck yoke. We were not prepared to set up a maple business but thought it was (and still do) a great experience for the children. My husband sat up at night boiling the sap over a fire with the final results being two gallons of pure liquid gold.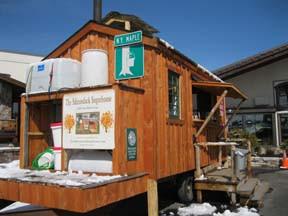 We now leave the making of my favorite pancake condiment to the experts. For the first year the Adirondack Sugar Shack is open for business in the parking lot of the Golden Arrow Resort in Lake Placid. The hope of the mobile sugar shed is to provide experience for those unfamiliar with the sugaring industry.
The mobile sugar shack is owned and built by John Cranley who started the project as an educational endeavor, "Kids from the Shipman Youth Center tapped trees last year with Mike Farrell at the Cornell University Maple Syrup Research Station. The sugar shack was built last year but it was too late to use for demonstration purposes. We did have it at the Ironman and BBQ Festival selling maple ice cream, maple cotton candy and other products and will at those locations again this year."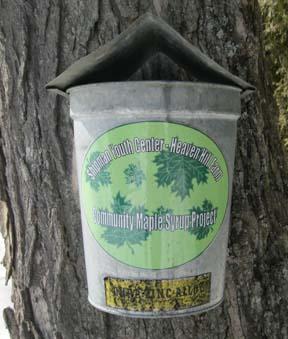 There are about 60 trees that have been tapped around Lake Placid with children from the Shipman Youth Center helping, with adult supervision, to collect the sap. Other sap is being collected from Red Fox Farm and around the Lake Placid Community Garden. There are even special packages available for those wishing to visit and make your own syrup. 
Anyone stopping by the Adirondack Sugar Shack is welcome to taste a sample of maple sap, a slightly sweet liquid that is about 98% water. The sugar shack is open if steam is pouring out the roof hatch and a delicious maple smell is wafting along Main Street in Lake Placid. There will be plenty of steam as it takes 40 gallons of maple sap to produce just one gallon of pure Adirondack maple syrup.
If the weather holds the mobile sugar shack will remain in place until Earth Day (April 22). The plan is to continue to produce maple syrup and then move onto to the lesser-known birch syrup product line. Birch syrup has a lower sugar content (It takes 100 gallons of sap to make 1 gallon of syrup) than maple and is said to have a light caramel taste.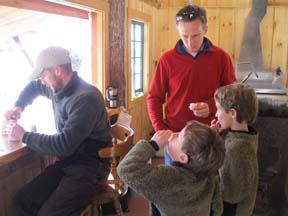 For anyone visiting the Lake Placid area, the Adirondack Sugar Shack will have maple sugar on snow, sap samplings and maple products for sale all weekend. The hours are Monday and Thursday from 10:00 a.m. – 7:00 p.m. and Friday – Sunday from 10:00 a.m. – 8:00 p.m.
The Adirondack Sugar Shack and the I Love BBQ Festival are just two fundraising events that benefit the Lake Placid Shipman Youth Center. 
Adirondack Family Time Tip: This weekend, March 25 - 27 is New York Maple Weekend with events all over New York State. In Lake Placid take a guided tour of the entire syrup process at the Cornell University Uihlien Sugar Maple Field Station. Call ahead for times 518-523-9337. 
photos are used with permission from Diane Chase, Adirondack Family Time