One of the greatest things about my job is that I have the privilege of meeting many of the amazing people behind the businesses and organizations that drive our tourism economy.
I'm also sometimes treated to special behind-the-scenes perspectives and tours, especially when I've got travel media or dignitaries in tow.
This week, I had the honor of hosting one such dignitary; the Greenest New Yorker, Kaity Tsui, as she explored our part of the Adirondacks.
In recognition of the 40th anniversary of Earth Day in April 2010, I Love New York introduced the "Greenest New Yorker" contest to honor individuals who were doing their part in keeping the Empire State green and making earnest efforts to preserve the environment.
As one of New York's top 10 greenest destinations, I Love New York sent Kaity to visit the Adirondacks. The outdoor experiences available in our pristine mountains and clear waters represent the number one reason people visit the tourism-dependent Lake Placid region, and our residents, businesses and visitors recognize that it is increasingly important to preserve our destinations' most valuable product.
We sure had plenty to showcase during her visit!
LODGING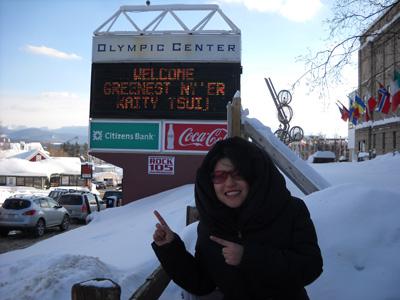 Kaity lives in New York City, and she doesn't own a car. But you CAN get here from there; she took the AMTRAK train to Westport on Lake Champlain, and the shuttle from there into Lake Placid.
And then she began her green Adirondack tour; as I delivered her to the first of two Audubon Society eco-rated lodging properties in which she'd be staying.
The first was Gauthier's Saranac Lake Inn- whose owners achieved a 4 green leaf rating from Audubon in record time - just one year. We were welcomed by the enthusiastic owners, Dan, Doug and Nicole Brownell in their cozy office.
Their story is interesting; Nicole told me that they became green almost by accident - not by design. They inherently made the appropriate environmental and cost-saving decisions for their new business. After they had owned the place for less than a year, however, Nicole was surprised that her water usage had gone up pretty substantially. She was puzzled; they had done all the right things to be environmentally and economically responsible, including a switch to a low flow showers and toilets.
Turns out, her water flow WAS up. The reason? Their business had tripled. Apparently, it's a good economic decision to be environmentally proactive. A general appreciation for the way they do business has gained them frequent return visits from loyal customers and increased positive word of mouth promotion. A great business model!
Kaity learned quite a bit about the steps that the Inn has taken toward sustainability, including discounted rates for guests arriving via non-gasoline modes of transportation, adopting a paperless check-in/check-out policy, eliminating the use of styrofoam at the property, and converting their pool from oil heat to solar.
Nicole is friends with Jenn Webb, whose family owns the Golden Arrow Resort, the other lodging property that welcomed Kaity. Nicole and Jenn's kids all go to the same school. They order green supplies together, share resources and ideas. And the Golden Arrow Resort is the only resort in the US to have achieved a 5 Green Leaf rating from Audubon Society.
EVENTS

We had dinner with two of the Adirondack Green Circle's members, Kate Fish and Gail Brill. They explained that their group strives to create a forum that will educate and inspire both their members and the community to choose sustainable living practices. And, they invited Kaity to join them the following day as the Green Circle marched in the Saranac Lake Winter Carnival parade!
The next day, I headed to the Adirondack Artists Guild, where I was invited to watch the parade from the perfect perspective of their upstairs balcony right on Main Street. One of the owners, Matt Paul, explained to me how the Guild is evolving to offer an increasing number of workshops as well as their wonderful gallery.  (I managed to sneak in a look at the gallery at the nearby Bluseed Studios while in town, too.)
LEEDS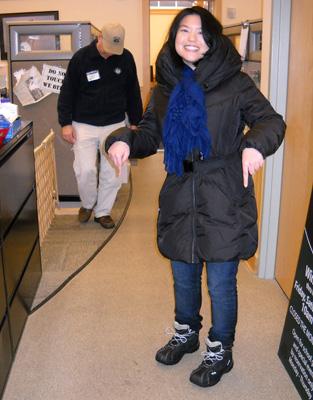 Kaity's visit included a visit to the Conference Center at Lake Placid, which anticipates Gold LEED (Leadership in Energy and Environmental Design consortium) certification when it's completed. The Center will be open this spring, and among its many great design features, offers a balance of eco-technology to keep the cold out, while letting the spectacular views of the Adirondacks in. 
The last of our big adventures was a trip to the LEED certified Wild Center. Kaity took a guided snowshoe tour of their pond loop trail, which showcased their green roof. On her return, we followed curator Dave Gross to the display area, where he took an unexpected turn, punched some numbers into a keypad, opened a door and motioned for us to go through. Now THIS was a behind the scenes tour for sure.
"Behind the scenes", we met the resident otters, the ultra-intelligent ravens, huge red-tailed hawks, a barred owl and more as we toured a series of ro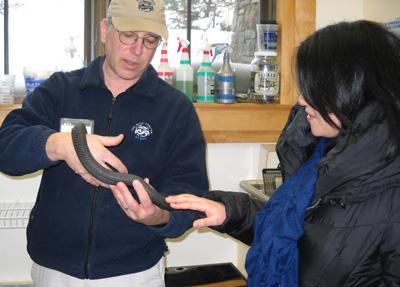 oms and some outdoor cages. One of the rooms stood out, at least this is the part I remember best: we approached a door with a sign on it that said "CAUTION, VENOMOUS REPTILES."
Despite the warning, we entered. There were a number of venomous creatures in there, including a timber rattlesnake who was aggressively shaking his rattle for the entire duration while we trespassed inside his lair. Kaity enjoyed petting one of the snakes while Dave held it, and apparently, she was also entertained by the panicked look on my face (I'm admittedly a ophidiophobe).
Escaping without incident, we walked through the huge basement that houses the wood pellet boiler that is integrated with a solar hot water system that supplies much of the hot water required to heat the 54,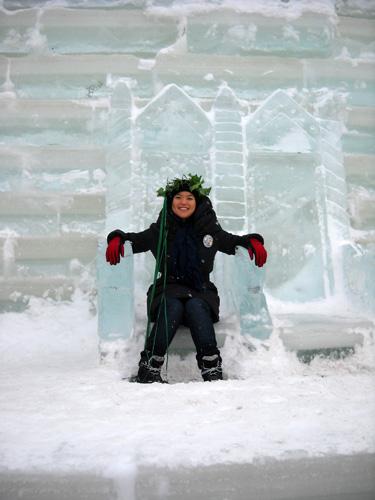 000-square-foot facility. Dave led us back out into the museum's display area via offices with floors made from recycled tires, and we left to head back to Lake Placid.
Kaity took the shuttle back to Westport, where she met her AMTRAK train back to New York.
It was a pleasure to see our region from Kaity's perspective - and for me, it's always a great honor to showcase the many experiences that the Adirondacks offer. As the very first winner of the Greenest New Yorker distinction, her reign as the official representative ends in April. But we know Kaity will continue to promote environmental responsibility - and remain a fan of the Adirondacks. After all, as we joked throughout the weekend, she is the Kelly Clarkson of the Greenheart program. (She'll always be the first winner!)
-Kimberly Rielly is the director of communications for the Lake Placid CVB/Regional Office of Sustainable Tourism
NEXT WEEK: 31st Empire State Winter Games - and more, for sure.