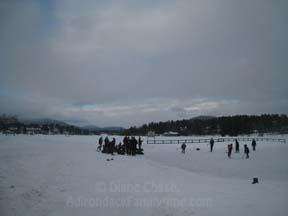 By Diane Chase
There is something purely Adirondack about skating on a frozen pond. Being surrounded by the High Peaks while skating makes me feel like I'm in a Currier and Ives print. I am always a bit nervous to do anything on any frozen lake until I see a car drive on it. I figure if the ice can withstand the weight of a car, the few extra pounds I'm carrying around since Christmas won't make a difference.
When asked, the Lake Placid Police Department takes the stance that "no ice is safe ice" but does use the opening of the North Elba Park District Toboggan Chute as their rule of thumb. If "the run" is open then they feel people can skate on portions of Mirror Lake. I am also told that since Mirror Lake is spring fed, some areas may be only 2" thick while other parts of the lake can be upwards of 9". The Lake Placid Toboggan Chute has been open but the weather has been fluctuating so it is still best to double-check.
I did go skating out on the lake thinking that because it has been plowed it is reasonable to venture out. There is a line of people at the Lake Placid Toboggan Chute while other people are already on the ice playing hockey and ice dancing. Some venture beyond the gated section but we stay well within the plowed area.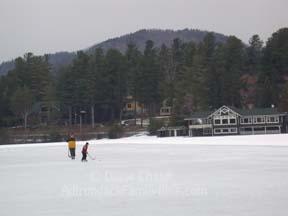 Though the skating area on Mirror Lake doesn't have lights itself, there is plenty of residual light from the nearby Toboggan Chute to add another beautiful element to skating outside.
I make a call to the local fire department and the mantra is the same, "No ice is save ice." When I ask if any rules existed for being on the ice I was told that no less than 8-10" of good ice for a hockey game and to always lean on the side of caution. I think that amounts to common sense. Please be cautious and never go out on the ice alone. If you have doubts, trust your instincts. If skating on Mirror Lake isn't for you, there are other options available. For this Adirondack family, skating on Mirror Lake is about being able to enjoy a bit of nature and unstructured play.
To access the skating area on Mirror Lake, park on Parkside Drive (between Mirror Lake Drive and Main Street) and walk between the Lake Placid Visitors' Bureau and the Lake Placid Toboggan Chute. It is the same location as the public beach.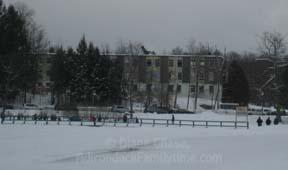 all photos © Diane Chase, Adirondack Family Time. Diane Chase is the author of the Adirondack Family Time guidebook series and co-owner of the the young adult wilderness adventure program, Adirondack Outdoor Expeditions.