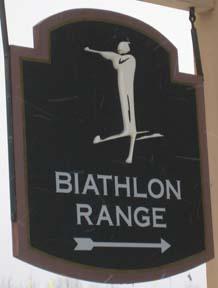 Since Lake Placid has generously hosted the Winter Olympics twice, it is no hardship for anyone entering the Adirondack Park to get on their Olympic Spirit. Biathlon is not something I would have ever thought I would wholeheartedly embrace. After attending a paintball biathlon for children, my tune has changed.
Unlike traditional Biathlon, children do not ski with paintball guns and an adult assists with each target station. During the 1st Adirondack Paintball Biathlon Series held at the Mt. Van Hoevenberg Biathlon Range, the young racers were set into three age brackets: 7-9, 10-12 and 13+. The race structure was considered a sprint format: ski three loops, stop at the shooting range in between to shoot 5 targets and finish on the third. The younger group went around a 600-meter loop while the older kids completed a 1K loop each time. For each target missed the skiers completed a penalty loop.
The second paintball biathlon of the season will be hosted this weekend, January 22nd, at Dewey Mountain in Saranac Lake with the help of the Lake Placid Biathlon Club, Dewey Mountain Ski Club, and the Tupper Lake Bill Koch Ski Club. 
For $5.00, any child from 8-14 can register and compete in any one of the 2011 Adirondack Paintball Biathlon Series. No experience is necessary though each participant must provide his/her own cross-country ski gear. Some kids race against each other while others just try to pull a personal best.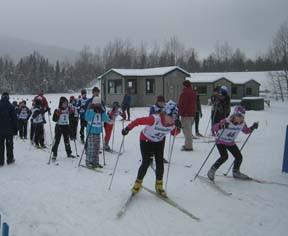 Currently all dates have a noon registration with a 12:30 p.m. start and a $5.00 entry fee. It is a fun race with a goal to get as many kids as possible out on skis enjoying the snow.
According to the Olympic Biathlon Organization, the word "Biathlon" is said to be of Greek origin meaning "two contests." The sport combines the endurance of long distance skiing and control of sharp shooting.
It originated with hunters as a means of providing food during long skiing expeditions. Gradually the sport became an alternative means of military training for Scandinavian border patrol. The earliest competition is said to have taken place in Norway around 1776. Since then it has become the modern day demonstration sport of cross-country skiing and precision target shooting.
For those wishing to observe the sport, on January 29-30 the Lake Placid Biathlon Club with the Saratoga, Syracuse, and Western NY Biathlon Clubs are hosting the North Americans (NorAM) in cooperation with the Olympic Regional Development Authority (ORDA), at the Mt. Van Hoevenberg Biathlon Range. The competition is free to watch.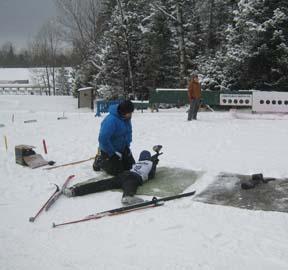 If just observing biathlon isn't enough, ORDA offers individuals the opportunity to experience biathlon in a variety of ways. Discover Biathlon includes lesson, trail pass, rental and biathlon for $55.00.  Be a Biathlete includes a freestyle skiing lesson and (under strict supervision) the target range. That particular exercise is available most Saturdays and holiday weeks at a cost of $35.00 or for $16.00 try the shooting range. Children must be twelve or older to participate.
2011 Adirondack Paintball Biathlon dates are:
January 22, Dewey Mountain in Saranac Lake
January 26, Mt Van Hoevenberg in Lake Placid (TBD)
February 13, Dewey Mountain
February 21, Big Boulder Deer Farm in Tupper Lake
March 5, Dewey Mountain (as part of Dewey Mountain Day)
all photos © Diane Chase, Adirondack Family Time. Diane Chase is a freelance writer and author of Adirondack Family Time: Your Four-Season Guide to Over 300 activities in Lake Placid,Saranac Lake, Tupper Lake and the High Peaks which includes easy hikes,historic site, snowshoe/XC trails, ice skating rinks, swimming holes and more. Her second Adirondack Family Time book will come out summer 2012 and cover the Adirondack Lake Champlain area from Plattsburgh to Ticonderoga. 
Adirondack Family Time Tip: If you buy the Olympic Sites Passport, there is a $2.00 coupon off the Olympic Biathlon package. If you plan on watching the NorAM biathlon competition or your child is going to compete in the Adirondack Paintball Biathlon, dress warmly. It can be alot of standing around in the cold.