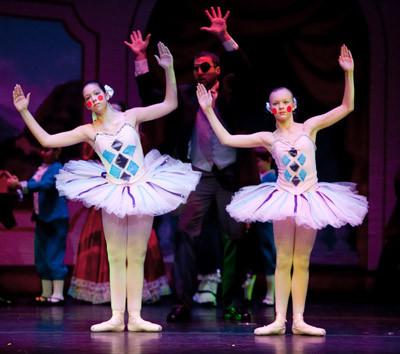 "I love this part," the kid behind me said. The lights came up and two girls and a small boy appeared on stage and began the Russian dance portion in The Land of Sweets. It was a fast-paced crowd pleaser, ending with the boy executing a breakdancing move to great applause, after which they all gracefully traipsed off the stage.
It was the first time time I had seen "this part", but it wasn't surprising that the kid behind me had seen it before, as the "Nutcracker" at the Lake Placid Center for the Arts this weekend represented the 25th Anniversary of the holiday performance.
It was a magnificent display - great costumes, lighting, and a terrific mix of talent with 65 student dancers, 10 community members, and professional dancers Madeline Deavenport, courtesy of the Rebecca Kelly Ballet, Ballet NY and New Chamber Ballet, and Luke Manley of Ballet NY.
I have to admit that one of my favorite parts didn't include the professional dancers. Rather, was when what I assume were the youngest of the student dancers did their bit during the second half. Four young girls, the "Bon Bons", emerged from beneath "Mother Ginger's" giant dress to enthusiastically perform their dance with tiny little feet, tremendous grace and HUGE smiles on their faces.
The more advanced ballet students were quite impressive, the professional dancers amazing, and Elodie Linck, who played Claire, was spellbinding in her performance, remaining for long periods of time in character as a spectator, then bursting onto the stage in dance.
A lot of communities have a variety of extracurricular activities and programs for kids. But this is Lake Placid, where youth have the opportunity to participate in some really unique sports, like biathlon and luge, as well as activities within the arts genre and of course, a variety of outdoor programs that take advantage of our Adirondack setting.
During intermission, I ran into several friends, some that were parents of student dancers that night. One of their daughters was an angel, another a mouse in the performance. The mouse, the 6-year-old's proud father told me, has been taking ballet classes for 3 years, and also takes part in local tap dance, skating and gymnastics. She's a perfect example; way to BE Lake Placid!
There are ongoing events of all types throughout the winter. Be sure to search our online events calendar HERE. And for more information about the Lake Placid Center for the Arts, visit their website.
PHOTO:  In this photo, Jennifer Durphy (left) and Maddie Runyon of the North Country Ballet Ensemble and the Lake Placid School of Ballet perform as the harlequin dolls with Lake Placid's Matthew Sorensen as Uncle Drosselmeyer during a dress rehearsal for the NCBE's production of the Nutcracker at the Lake Placid Center for the Arts. This was the second year that the NCBE has partnered with the LPCA to stage the Nutcracker as part of the Holiday Stroll festivities. The show was performed to two sold out shows over the weekend. (Photo Courtesy Todd Bissonette.)