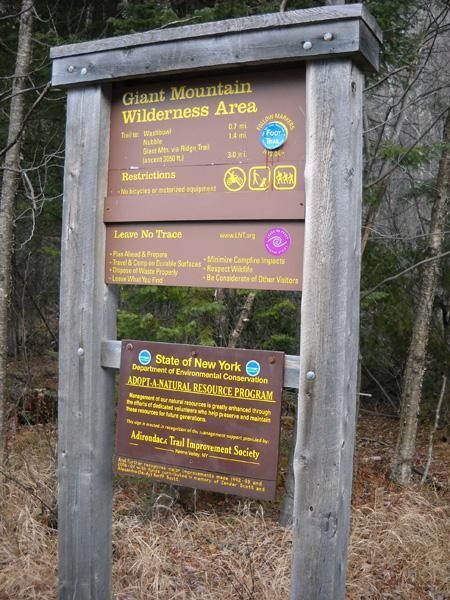 Sure, there are no leaves - not green, foliage red, orange or yellow. But November and early December often provide a great backdrop for adventure in the Adirondacks. The air is typically crisp and cool, there's no chance of insects, and if there is not yet much snow, one might just find perfect conditions for backcountry skating among the evergreens.
Hoping for just those conditions, my husband and I headed off on a short hike last weekend with our skates in hand. Our destination? One of the not-so-secret early season local pond hockey rinks- the Washbowl on the trail to Giant Mountain.
Giant is the 12th highest Adirondack peak, and is accessed via two primary trails from St. Huberts and near Chapel Pond in Keene. There is a third, much longer ascent from New Russia from the east that passes over Bald Peak.
The trail from Chapel Pond offers a short hike to the Nubble by way of the Washbowl - a pond at the base of a cliff just 0.7 miles from the trailhead - this was our goal.
This particular weekend, there was no snow on the trail - but it had been below freezing at night, so we were cautiously optimistic about the pond being frozen enough to skate.
We hiked for just 15-20 minutes and reached the pond - was it frozen? It looked frozen. As we got closer, we realized, however, that only 1/8 inch was frozen - not enough.
Undaunted and enjoying the crisp day, we decided to continue on to Nubble, a rock outcropping with great views that was just another 0.7 miles. A nice, fairly easy hike of another 15 minutes brought us to a wide open view of the slides on Big Slide, Rooster Comb, Upper and Lower Wolf Jaws and more. After a short rest and a conversation with some locals that had brought their grandson on his first trip to their favorite short hike to Nubble, we started our descent.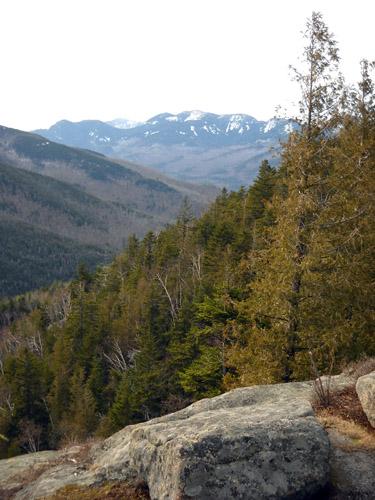 We stopped again for a moment at the Washbowl on our way down, and as we took another look at the semi-frozen water, we heard fast approaching footsteps, twigs snap and - panting - from the approaching trail. Immediately, a black lab mix pounced out of the woods, and right behind him a young boy emerged, complete with his gear bag and a hockey stick. The look on his face changed from anticipation to disappointment in a nanosecond. "Sorry," we said to him, as if it was our fault. "Oh well," he said. "Just thought it was worth a try."
We headed down the trail to the car, passing the boy's father and sister on the way. Though we gave them the conditions report, they continued their pilgrimage to the pond with smiles on their faces. It was hiking this weekend, skating next, maybe.