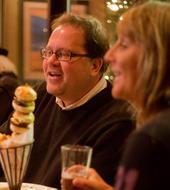 If you've never experienced it, lunching with dancing bears can be incredibly enjoyable. Take a friend or two and drop on in to The Dancing Bears at the High Peaks Resort (in Lake Placid). For the uninitiated, The Bear Dance is a painting by William Hollbrook Beard. This romantic fantasy depicts bears -- symbolic of conservative financial investors -- celebrating a good business day; it was most probably painted earlier than The Bulls and Bears in the Market. The previous owners of property , the Roland family, named the original lounge, in what was then a Hilton Hotel, The Dancing Bears Lounge. A print of the original painting dominated the old back bar and the entire room was themed on the painting. The current owners of The High Peaks Resort, upon redesigning the hotel and relocating the lounge, decided to retain the name and theme. The new street-level bar and restaurant was aptly given the same name - The Dancing Bears. So much for the art and history lesson. On to lunch.
The Dancing Bears offers three meals a day. Made to order breakfasts include homemade blintzes and granola, and an Adirondack type menu of pancakes, fresh berries, and the other usual suspects you find on a good breakfast menu.
I recently had the pleasure of joining a friend (who was paying --- yeah!) for lunch. I like to eat at the bar, but there are bistro tables as well as regular tables also, if you prefer not to be a bar "fly". As for me, once a bar fly always a bar fly. What can I say? The menu is standard for both lunch and dinner. It's not huge, which is a good thing. Huge menus are confusing and take too much time to read - my humble opinion. This menu is "just right" (kinda like the three bears and the porridge, since we're talking bears). The room and the menu have a rustic feel and design and the menu is perfectly balanced with apps, salads, a little Mexican, sandwiches, burgers, signature pizzas and, of course, a la carte entrees like steaks, pasta, seafood and a couple of veggie entrees. The signature pizzas are creative and fun, and plenty for two. Another signature of The Dancing Bears is their Main Street Sliders - three mini beef cheeseburgers, served with home made (to die for) french fries. I've had these before - they are delicious. At any rate, I ordered the soup of the day. It was tomato, beef, macaroni - and I asked for a small side of sour cream to make it creamy because I was in a creamy soup mood. I then started day-dreaming about my childhood favorite - grilled cheese and tomato soup. Seeing that grilled cheese sandwiches were not on the menu, I asked our wonderful server, Margaret, if the kind folks in the kitchen could whip me up a good old fashioned grilled cheese on white. "Of course they can"! Hurray! And it satisfied that craving in the best of ways. Thanks to the staff for making my day! My dear friend had the French onion soup and it passed the D.R. taste test. I forget what else he ordered because I was so wrapped up in childhood grilled cheese memories, but I do remember he said it was 'great'. Our lunches were both great - and we topped them off by sharing a big slice of some tremendously sinful chocolate cake thing, sporting about a billion calories. I had a small bite... D. R. ate most of it himself.
The bar has a great selection of beers on tap. And the "tap" is known as the "Mega-Freeze Polar Beers" tap, poured through taps encased in blocks of ice! That's some mean technology for all you beer lovers. The variety of beer is ever-changing and always good. Every day they offer $2 pints from 4 - 7 pm. What's not to like about that deal? Too bad I don't drink beer. I stick to wines. I'm not a big fan of their wine choices, but that's just me. Others like it. So when I go to The Dancing Bears I usually drink a mixed drink, of which they have all the usual (and some not so usual) choices.
The atmosphere in The Dancing Bears is open and big and fun. It's convenient, as you can park in the hotel parking garage and go through the hotel in inclement weather or you can park on Main Street and use the convenient front entrance. For sports fans, there are two or three televisions on which to view the most current sports events.
Get thee to the Dancing Bears - you're sure to enjoy it. I do.