We are watching the Lake Placid Horse Show while waiting for a behind-the-scenes tour to start. My children ask me what is going on and I readily admit my lack of preparation. I really don't know. I start madly flipping through the pages of my program, attempting to speed-read the event rules.
Thankfully a kind woman takes pity on me and gives me a quick set of rules so I can sound knowledgeable. I point out the starting clock set for 83 seconds to my children, basically parroting all that I just heard. Each horse has to make it around the course within the set time. My son starts looking for clean rounds and faults. He notices when the horse is penalized four points for each fault: refusing to jump an obstacle, a knock-down or exceeding the time. He starts asking more questions, but our tour is about to start and I am able to shift the responsibility to our guide.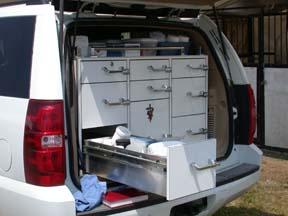 We soon join 20 other people for an in-depth visit behind the scenes of the Lake Placid Horse Show Grounds. The tour meets in the vendor section of the horse grounds. My daughter's only request is to try on hats from the various clothing vendors.She is more enthralled by the ladies' headwear.
We are shown around a tent city that has been erected for the two back-to-back events. Most of these horses come with an entourage. All the amenities of a four-star hotel are available for these prestigious animals. Laundry service, acupuncture and even an equine massage therapist are there to make sure these powerful animals can perform at their peak.
Portable stalls have been decorated with the owner or farm's colors. We look for the beginning of a trophy wall where ribbons have been proudly displayed, a splash of color amongst the beige tents. A visit to the traveling veterinary, large animal ambulance and farrier are the highlights for my children.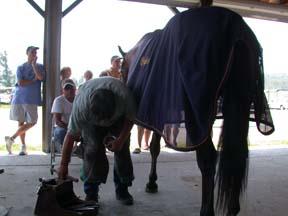 One whispers for me to ask if we could have a demonstration of a horse being hung from the ambulance sling. I am sure a collective shiver of horror went up the spine of all competitors. No, but we do see a farrier shoe a horse.
This modern blacksmith is an important part of the competitor's pit crew. Each horse is different; therefore each shoe is custom fit. Gone is hand-forged iron, replaced by electric tools contained in the back of a pick-up.
Our tour ends and we have gleaned enough information to watch the next event. My son recognizes the name of a farm we had seen on the tour. We watch to see if they will add more ribbons to their wall.
The "Lake Placid Horse Show" ends July 3 with a smooth transition to the "I Love New York Horse Show" July 5 – 10. Show hours are from 8:00 a.m. -5:00 p.m. Tickets are $2.00 weekdays and $5.00 on the weekend. Children under 12 are free.
The guided walking tour is $1.00/person on Wednesday, Thursday and Friday at 11:30 AM and meets at the Retail Booth. For more information please call the Lake Placid Horse Show Association at 518-523-9625.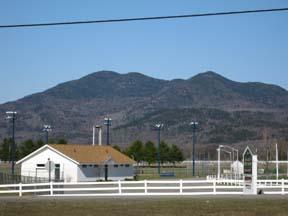 Adirondack Family Time Tip: Show Your Price Chopper AdvantEdge Card and admission is 50% off or be GREEN and ride the Lake Placid XPRSS Trolley to the Lake Placid Horse Show Ground and admission is FREE. 
Don't forget to try this cool secret path while you are at the Lake Placid Horse Show Grounds. 
all content and photos are ©Diane Chase, this post is an excerpt from the new guidebook  Adirondack Family Time Tri-Lakes & High Peaks Region: Your Four-Season Guide to Over 300 Activities (with GPS coordinates)