When you think about Lake Placid, what comes to mind? Tall mountains? Pristine lakes? The Olympics? All of the above? Well, don't forget to add this one really important thing to your list: donuts.
No, that wasn't a mistype. The donuts are for real. And so are the hot dogs. And hot cocoa.
Wait, what?
The recently opened Cocoa and Dough, Co. serves up a delightfully different menu that surely has something to please everyone. We were told that we'd go loco for the cocoa, and the unique customized donuts and hot dogs would be equally delectable! I'm not one to pass up a chance to try something new (especially when it involves food), so I donned my stretchy pants and headed to Main Street to see what I would find.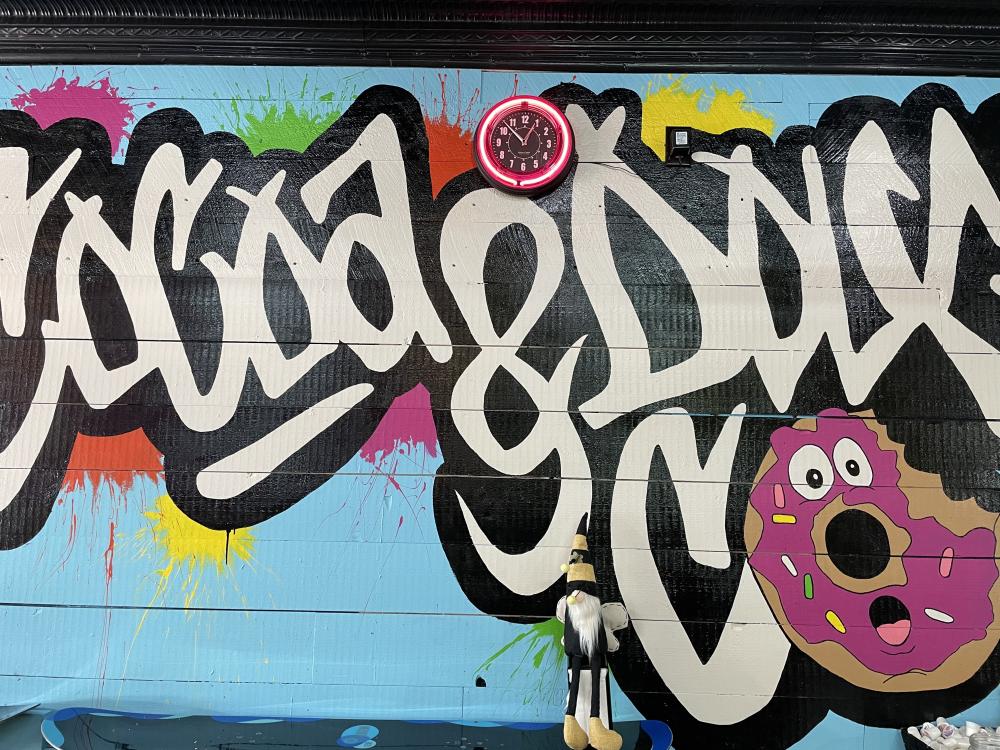 To better understand this trendy new spot, I sat down with co-owner Bryce Stanton, who I found cheerfully bouncing around the storefront one morning.
Locally rooted
Upon entering Cocoa and Dough, Co. you immediately realize this isn't your traditional Lake Placid shop or restaurant. Bryce noted that this definitely isn't your typical brown and green Adirondack color scheme. There are no rustic design flairs here, or antlers on the wall. Colorful and fun wall murals catch your eye. The wall behind the counter is even bright pink!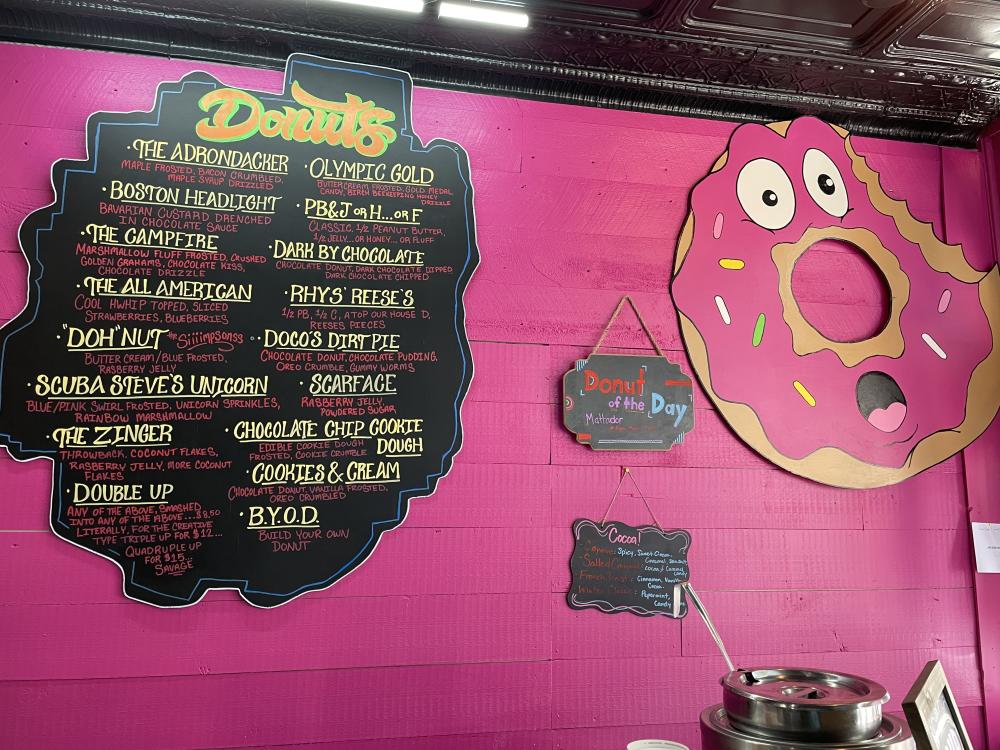 But don't worry, the Adirondack themes of hospitality, great food, and one-of-a-kind finds are not lost here. Bryce is from Lake Placid; he knows the area. He likes hiking, spending time outdoors with his family and dog, and watching football just like the rest of us. He and co-owner Sarah Poirer both wear many hats around the region. After spending time in other parts of the country, Bryce returned home and began to ask "what is missing from Main Street? What do people want?"
The answer to that question was unequivocally donuts! And hot dogs. And gourmet hot cocoa.
When there was an opportunity to open Cocoa and Dough, Co., Bryce and Sarah jumped on it. One of the goals of Cocoa and Dough, Co. was to breathe new life into Main Street by making something that both residents and visitors would enjoy.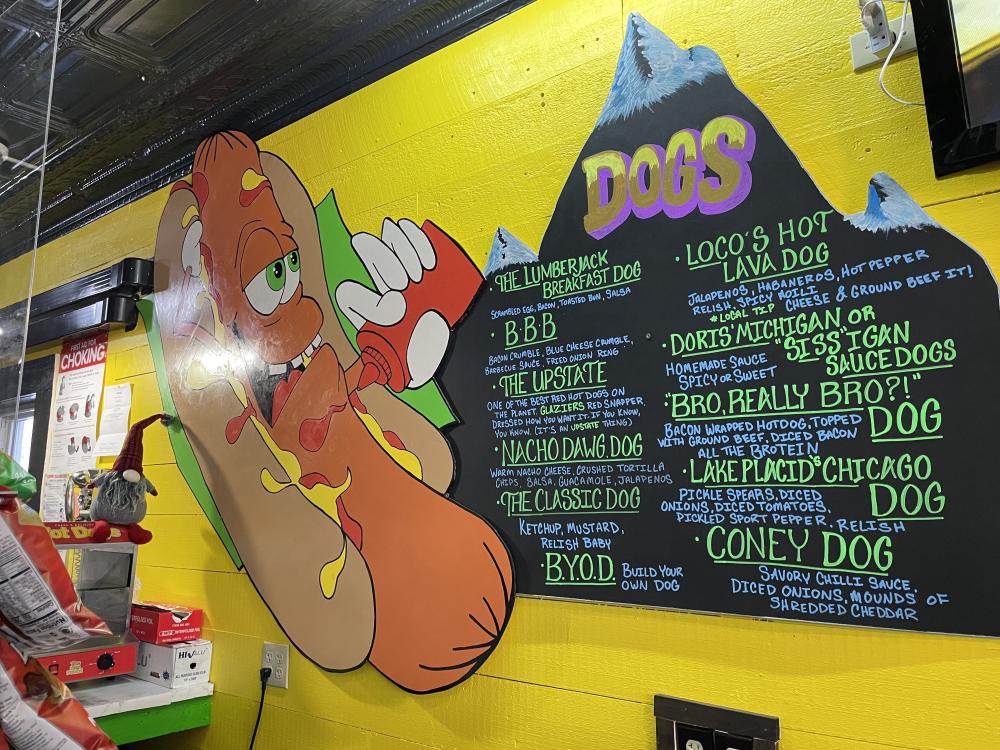 The food
Hip decor and vibrant art don't make a restaurant. The food is the real test here. And, I have to say, Cocoa and Dough, Co. packs in the flavor in spades. Let me preface this by saying that I am not a huge fan of donuts, but when Bryce told me that The Adirondacker and The Campfire were the most popular choices, I had to indulge. Words really can't do these donuts justice and I may have been converted into a donut fan. (I even forgot to take a picture of the whole thing; I was so excited to eat it!) Donuts are made fresh each morning so you know you know it's going to be good. Need more convincing? While I was visiting, two young girls ordered unicorn donuts, which they described as their "favorite donut ever."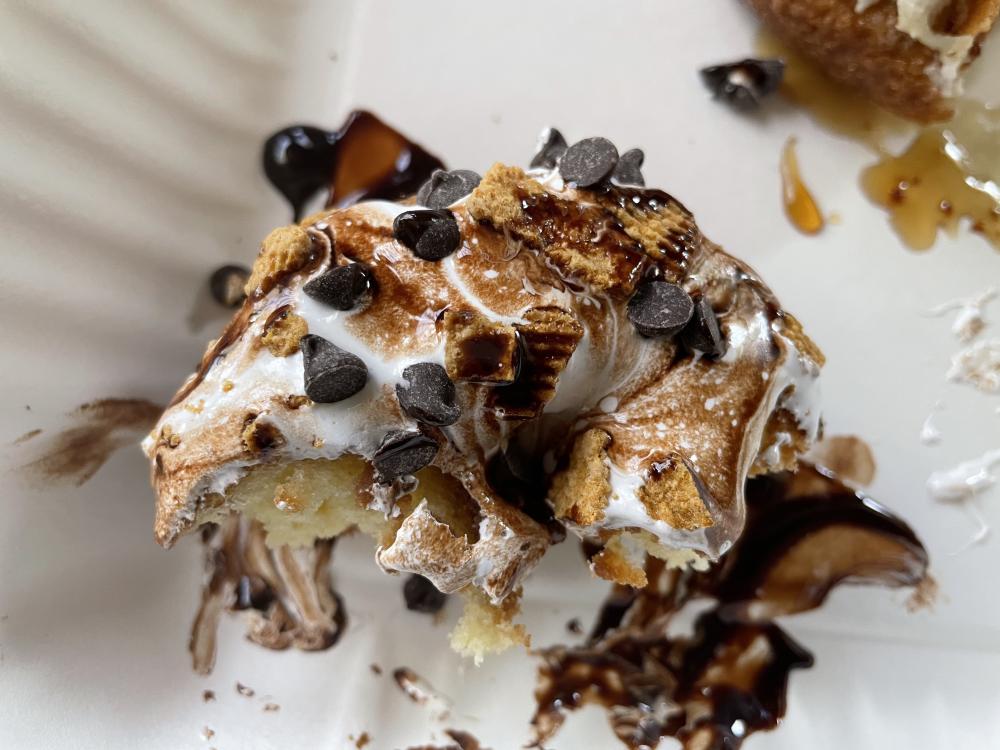 Kids (and kids at heart) can also build their own donuts and hot dogs, picking toppings that fit their creative tastes.
As for the hot dogs, they are just as good. Bryce said he likes to craft his own unique hot dogs, but the Nacho Dawg Dog has to be his favorite on the menu. My boyfriend and I got a Nacho Dawg Dog, a Doris' Michigan with spicy sauce, and a Coney Dog wrapped up for take-out, which meant the cheese was all melted wonderfully. Everything on the menu at Cocoa and Dough, Co. is perfectly prepped and prepared for you to eat on the go. Honestly, what a great complement to a walk around Mirror Lake?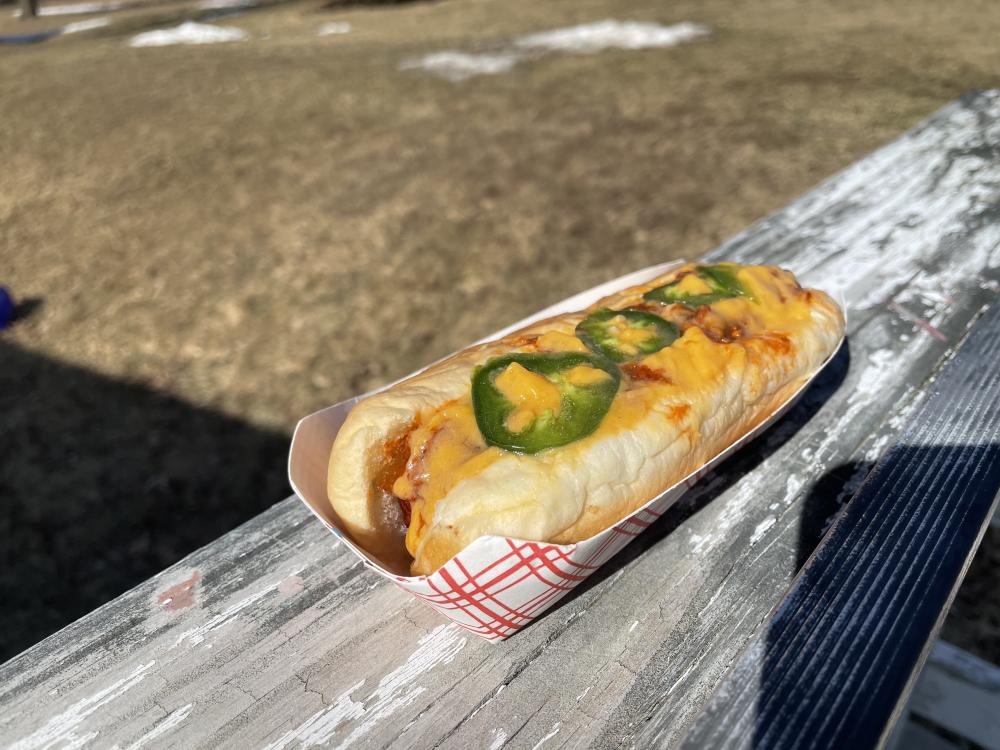 Giving back
What's better than a delicious donut? Why, getting a delicious donut as a surprise gift, of course!
In February, Cocoa and Dough, Co. started a movement called "Make Somebody's Monday." Most people start their Mondays with a cup of coffee and work meetings. Bryce starts his week dressed in a hot dog suit, delivering tasty treats to people around the region. "We are truly so grateful and feel so blessed to have such a great community around us supporting us," it reads on Cocoa and Dough, Co.'s Facebook page. "We wanted to give some of that back by brightening people's days within the area!" Truly, this is a sweet way to say "thank you."
But the community involvement doesn't stop there. On Saturday, March 20, Cocoa and Dough, Co. launched a weekly comic strip that features their main cast: Doco the donut, Loco the hot dog, and Coco the hot chocolate. (Side note: if you need more comics in your life, head over to Zack Nation: A Pop Culture Odyssey.) In the first issue, Doco learned some important Leave No Trace lessons at the Kiwanis Teddy Bear Park. You'll have to tune in each week to Cocoa and Dough, Co.'s Facebook and Instagram pages to see what other antics these colorful characters get into! And if you have an artist in the family, uncolored versions are available to print and color! There's even a full coloring book planned.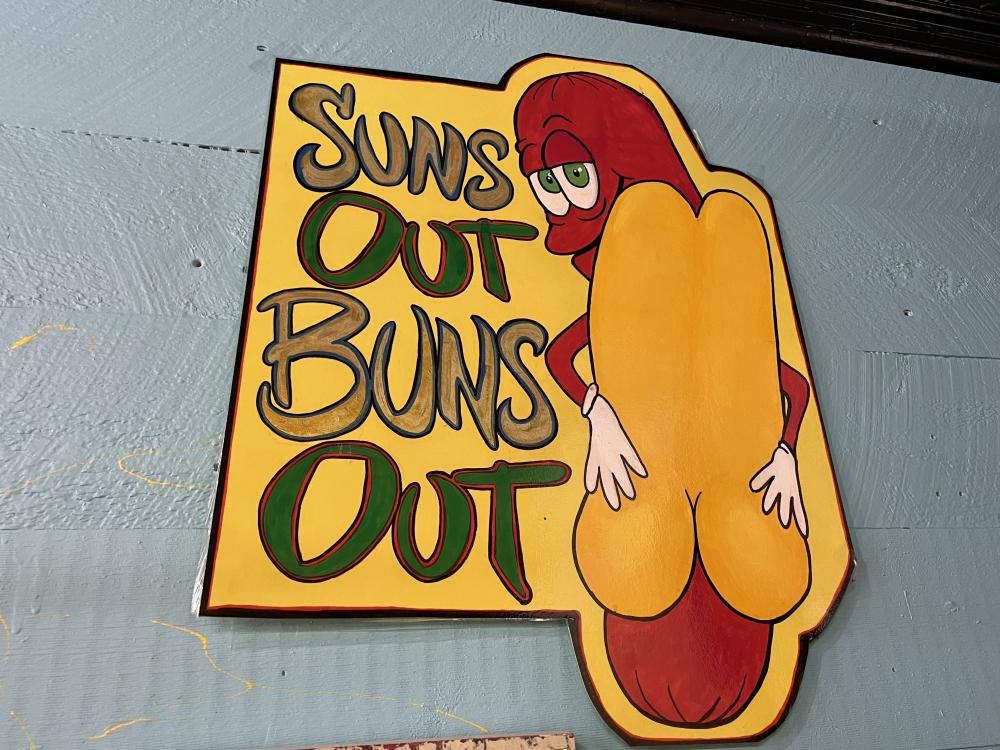 The future
What's in store for Cocoa and Dough, Co.? As we transition from winter into spring and summer, Coco's hot chocolate bar will transform into a cool, refreshing smoothie stand and there are even plans to start serving pretzels.
I inquired about what it was like opening and operating during the COVID-19 pandemic, and Bryce said it's definitely been interesting, but better than he could have imagined. Cocoa and Dough, Co. got a taste of summer during the President's Week rush and they are ready to rock and roll for summer 2021. If you're in Lake Placid, you don't want to miss this. Your taste buds will thank you.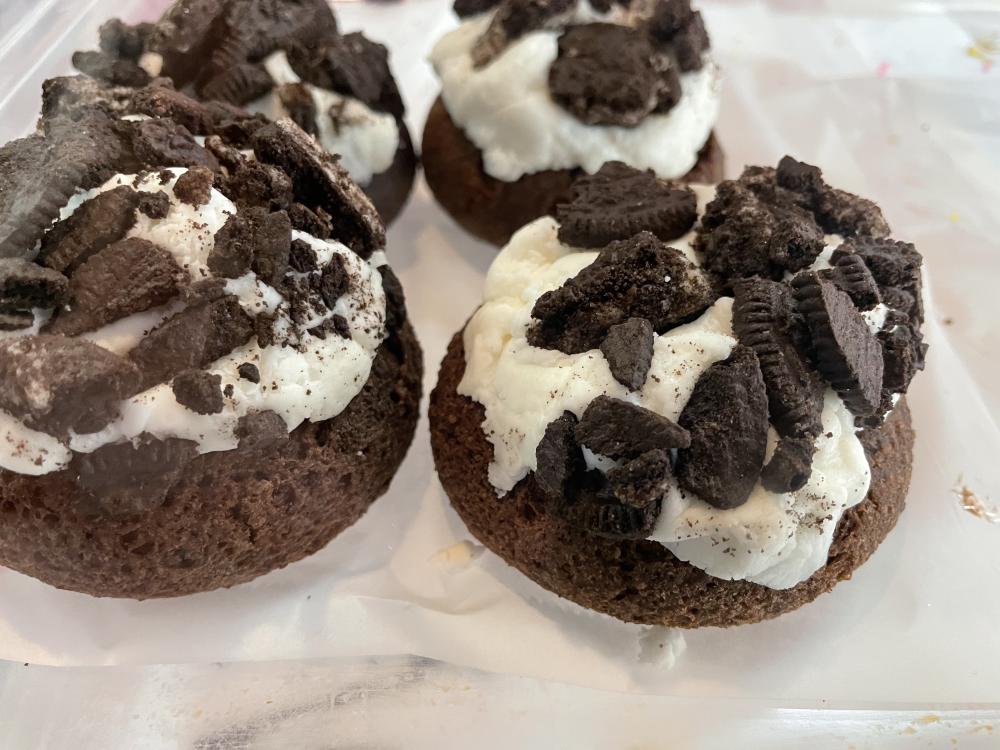 As for me, I'm left daydreaming about donuts. The Guinness World Record for the heaviest donut (3,739 pounds, jelly-filled) was set by two bakeries in Utica, New York, which is located not too far outside the Adirondacks. Will Cocoa and Dough, Co. try to go for the gold here and attempt to beat the records? I can't say, but if there's a taste test on the horizon, I know who has my vote.
Now that you're sufficiently hungry, head over to Lake Placid for some food, R&R, and maybe an adventure.