There are these days where the Adirondack winters make you feel like you've been transported to a magical wonderland. The sun shines just right and the snow falls to the ground in such a way where it illuminates each flake perfectly. These are the days that you can't help but be outside, lost in this beautiful place all day. There is no better way to experience all the magic of winter than cross-country skiing.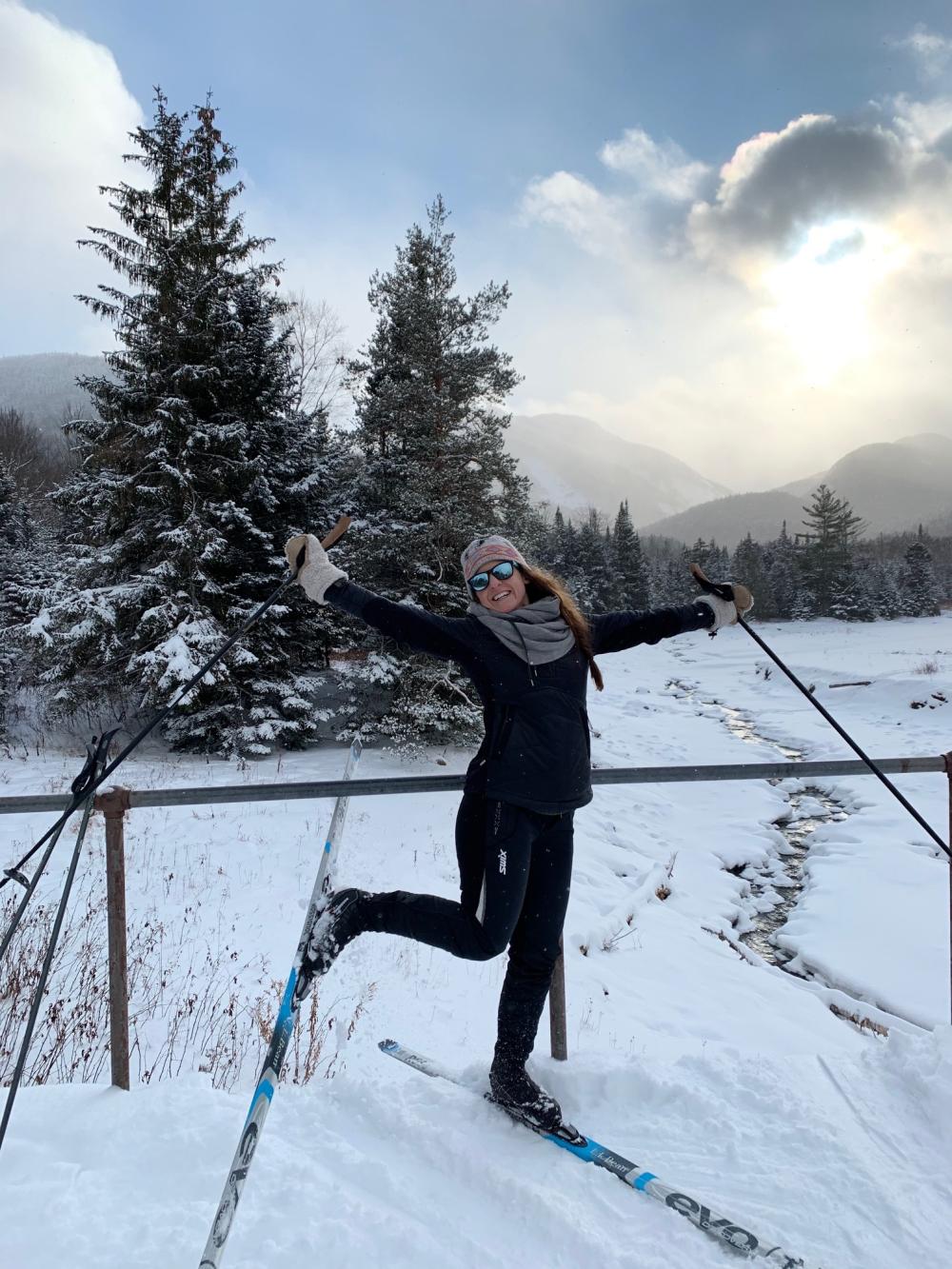 Most of the time my ski adventures are with intent, to keep me prime for my summer endurance racing endeavors. As an endurance athlete, I feel blessed to live in such an area that provides a wealth of opportunities to get in hours of outdoor activity all winter long. In Lake Placid, there are endless amounts of activities to keep conditioned during the off season. All you have to do is swap out the gear seasonally. Skiing has become my go-to for the perfect cross-training activity.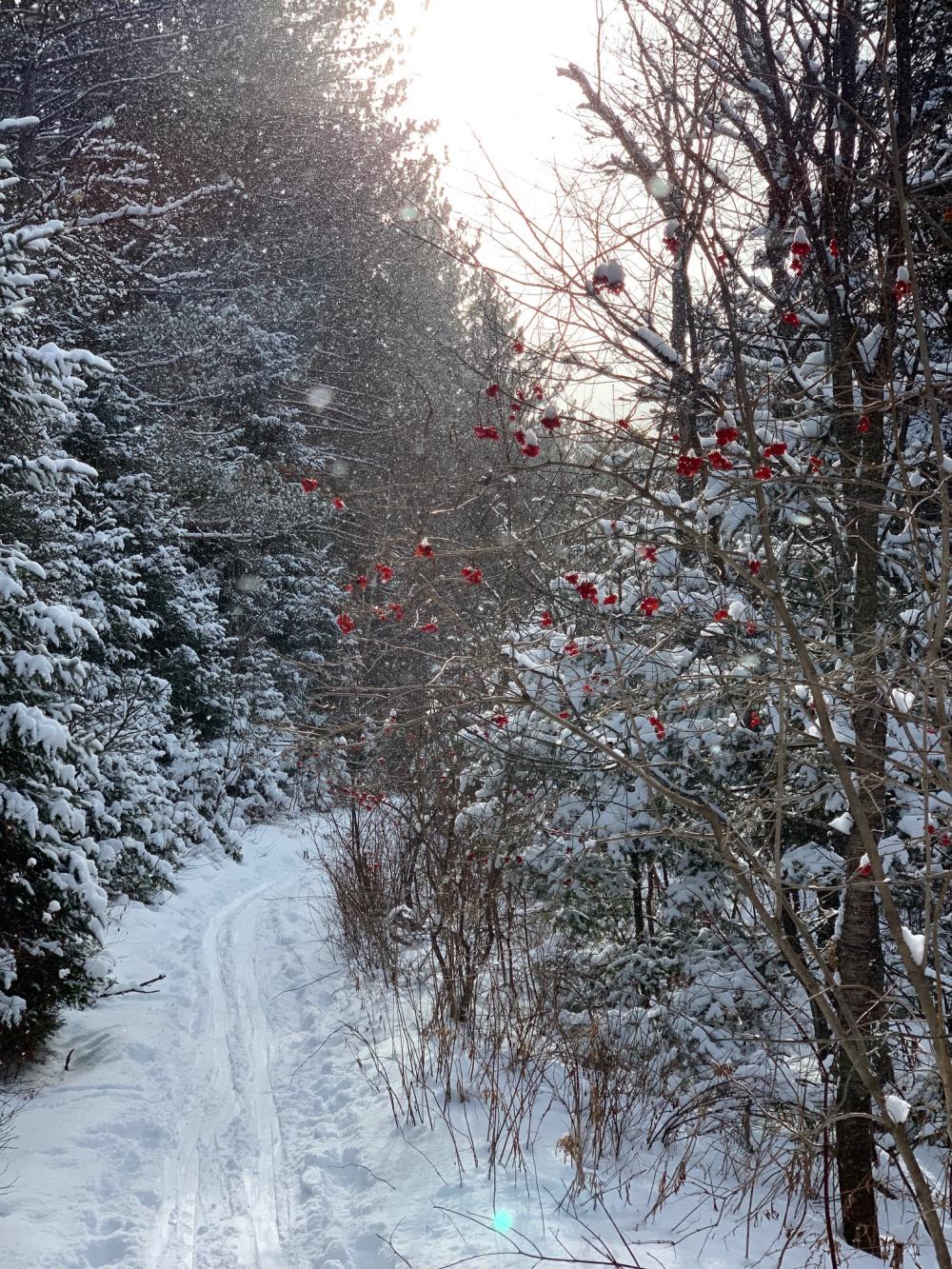 But this winter has been a little different. I have been leaving behind that "training" mindset, and heading out with a different intent. Typically, I ski alone, and with purpose, to work hard. Lately, I have been calling up a friend and spending the day skiing with no other objective but to enjoy gliding through the woods on a beautiful winter day with good company.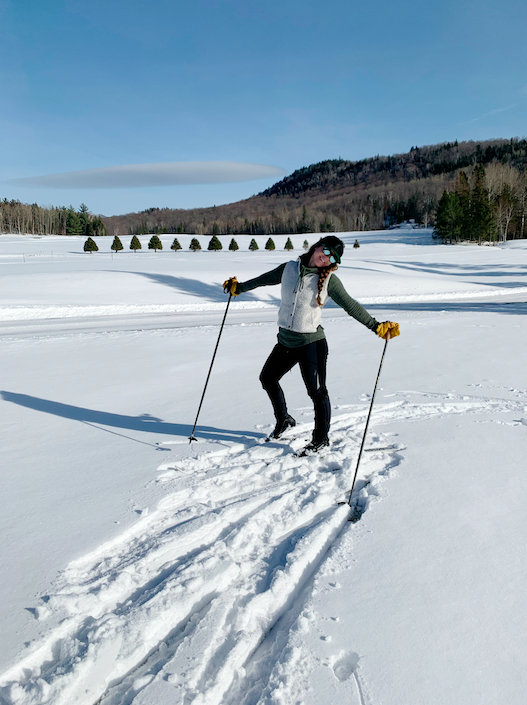 My favorite place to ski is the Marcy Dam trail off Adirondack Loj Road. This is about 7 miles round-trip and, on a perfect winter day, you will get totally lost in the views along the way. The best part about skiing back into the woods here is how muffled your surroundings are by the snow. Everything suddenly feels calm and quiet, a sensation frequently experienced in the snow-covered Adirondack woods. To access this trail, park a car at the intersection of South Meadows and Adirondack Loj roads. (South Meadows Road is closed to vehicular traffic during winter months, but makes for a great ski trip!) Once you reach Marcy Dam, you'll be greeted with stunning views of the High Peaks Wilderness Area.
Another wonderful place to ski is the Cascade X-C Ski Center. For a small fee, you will have access to beautiful, well-groomed cross-country ski trails in the heart of the High Peaks region. It is worth spending the day on the trails here. It's different than skiing in the wilderness, but in a very good way. Cascade is your quintessential old-fashioned ski center that makes you feel like you are truly somewhere special. In addition to their own fabulous trail network, the trails at Cascade can lead to other networks, such as the Jackrabbit Trail and the Craig Wood Golf Course. As an added bonus, when you are done, you don't have to drive anywhere to grab lunch. Cascade offers a menu of locally-sourced comfort foods that are best enjoyed next to the Lodge's fireplace or on the wooden deck overlooking the MacIntyre Range.
Cross-country skiing in Lake Placid is a must! It's how I train all winter long, but it's also how I can truly enjoy the beautiful winters here. These two locations are my favorite places to ski, but there are miles and miles of other trails to explore! Book a room today and start planning your cross-country ski vacation! While you're here, check out one (or a few!) of Lake Placid's fine restaurants, shops, and seasonal events. You may find yourself skiing in the moonlight at Cascade!
--
This week in ADK news:
Enjoy winter in Hamilton County
New lodge, historic inspiration
Where to stay in the Whiteface Region