Lake Placid, NY: The Lake Placid Center for the Arts (LPCA) and North Country Ballet Ensemble presents the 33rd annual performance of Nutcracker. The performance will take place on Saturday, December 1 at 1:00 p.m. and 7:00 p.m. and Sunday, December 2 at 1:00 p.m.  Tickets are $20 for adults and $15 for children. Tickets are available by calling the LPCA Box Office at 518.523.2512 or online at LakePlacidArts.org.
In its 33rd season, the North Country Ballet Ensemble's Nutcracker will entertain audiences with new choreography, and new faces. Guest and Resident Choreographers have fashioned a Nutcracker sure to entertain, even veteran audience members.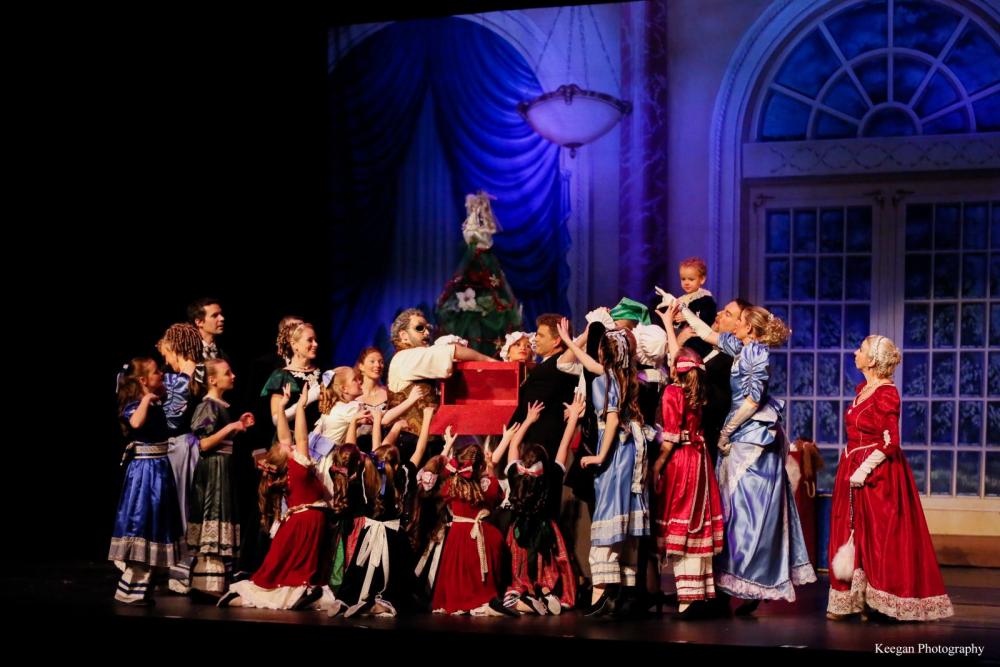 Alice Schonbek, in her seventh season as Artistic Director, is pleased to welcome 65 local student dancers from seven dance schools in three counties, as well as 12 community members who perform in Acts 1 and 2. NCBE artistic staff includes Resident Choreographer Terpsie Toon, in her 9th year; Michela Boschetto of New York City, an 11-year veteran; along with Kristen Glazier and Natalia Balina-Zborowska. Rebecca Kelly of New York City continues her 20-year relationship with the NCBE.
Outstanding New York City professional dancers will be joining them for the 33rd season. Therese Wendler, currently a soloist with Dances Patrelle and formerly principal dancer with Connecticut Ballet and Rebecca Kelly Ballet will dance the role of Sugar Plum Fairy. Mikhail Ilyin will perform in the role of Cavalier. Ilyin, a native of St. Petersburg, Russia, received his training at the prestigious Vaganova Ballet Academy before moving to the United States in 1999. Mikhail has danced as soloist and principal dancer with Boston Ballet, Miami City Ballet and American Ballet Theater.
Lexi Coffin of Lake Placid, NY will dance the role of Claire, while Jordan Osborne from Peru will perform as Fritz. We welcome back the charismatic and magical Tyler Nye of New York City, as Uncle Drosselmeyer, and Karen Courtland Kelly, a former Olympian, as the Nutcracker. The NCBE graduates two seniors this season, Morgan Broderick of Lake Placid, and Amber Winch of Wilmington. Broderick will perform in the role of King Mouse in the Battle Scene, in the ensemble of the Snow Scene, in the Spanish and Arabian Variations, and as the Dew Drop in Waltz of the Flowers. Winch will perform the role of Mouse Major in the Battle Scene, dance in the ensemble of the Snow Scene, in the Spanish and Arabian Variations, and as the Dew Drop in Waltz of the Flowers.
This year Erika Guay and Margaret Swick will renew their partnership to rework the lighting design. Look for new special effects in Act 2. Once again, the show's visual appeal will be enhanced by a variety of set features, designed and produced by dedicated community members.
For more information about the NCBE, please visit North Country Ballet Ensemble.org.
About the LPCA
Nestled in an Olympic village, the Lake Placid Center for the Arts is a year-round treasure to residents and visitors of the Adirondacks and is the premier art and cultural hub of the region. Orchestrating quality programming, performances, rotating art exhibitions, and education experiences to residences and visitors alike, the LPCA provides an ensemble of offerings in music, theatre and dance, and supports local, regional and national artists in its Fine Arts Gallery. At the heart of this hub is hands-on learning experiences for children exploring their creativity and adults finding new passions. As a leading organization, the LPCA collaborates with other Adirondack non-profit partners to build, support and cultivate the arts community. Inspiring excellence in the arts for generations, the LPCA continues to thrive today at its unique and captivating Lake Placid campus.