LAKE PLACID, N.Y. - Fans of sliding sports, already buzzing by the prospect of World Cup luge returning to Lake Placid, together with the annual Empire State Winter Games and the Saranac Lake Winter Carnival, have one more event to get excited about. 
Ardent supporters, casual fans and the general public will have the chance to blast down a frozen ramp at speeds over 35 miles per hour in an all-out effort for glory at the Rock 105 Adirondack International Toboggan Championships, presented by High Peaks Dental Care, to be held on February 8.
Race action will take place at the Lake Placid Toboggan Chute, located next to Mirror Lake in downtown Lake Placid. The chute is dedicated to Gerald F. Cassidy, who led the effort to build the structure in the 1960s.
The race is scheduled to get underway at 6:00 p.m. and will conclude at 9:00 p.m.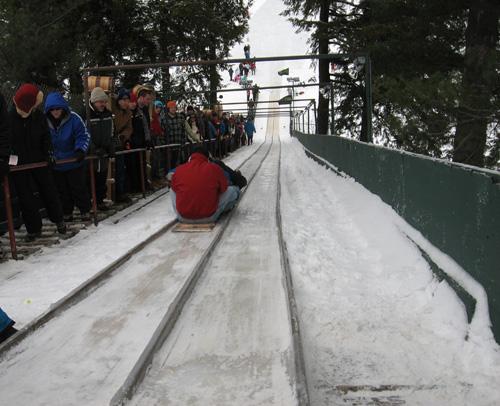 "Competitors" in these championships will vie for nearly $3,000 in prizes, including cash, hotel rooms in Lake Placid, Whiteface ski passes and more. Teams of four will take two runs down the course. The winners will be determined by who glides the farthest on frozen Mirror Lake. Additional prizes will be given for fastest time through the speed trap and, for the first time, the team with the best costumes.
The Adirondack International Toboggan Championship is a benefit for USA Luge, responsible for recruiting, developing, training and supporting athletes to represent the U.S. in major international events, including the Olympic Winter Games. The organization has been based in Lake Placid since its' founding in 1979.
Entry fees are $10 per person or $40 per sled. All proceeds will benefit USA Luge. Anyone and everyone are welcome! (Registration on-site)