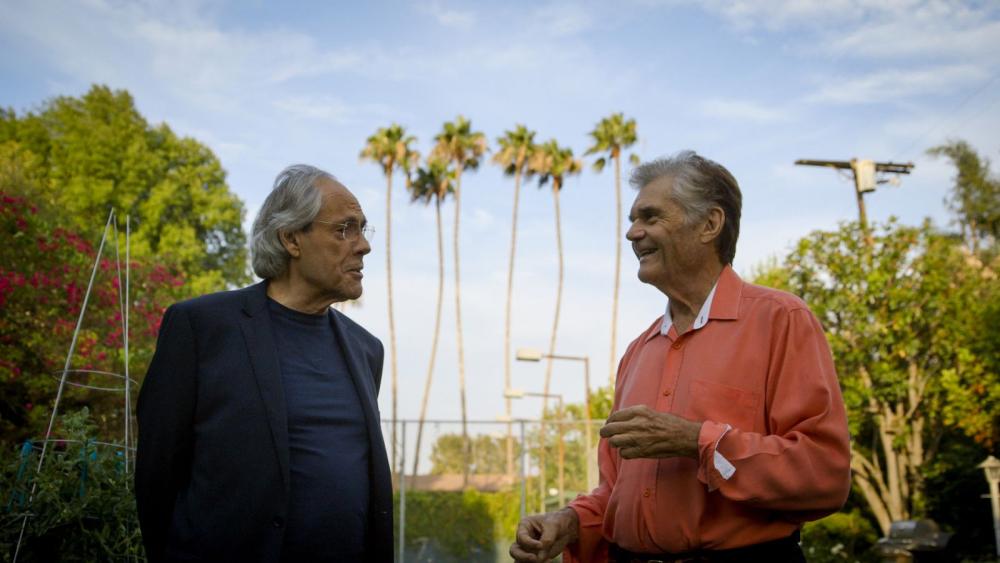 Lake Placid, NY: The Lake Placid Film Forum – now marking its fifteenth anniversary – returns to The Lake Placid Center for the Arts (LPCA) and the Palace Theatre with its biggest and best lineup of new, recent and classic film screenings from Thursday, June 9 through Sunday, June 12.  Tickets are $10 per screening and will be available at the LPCA Box Office.
With its initial success as a major cultural event here in the Adirondack North Country—let alone the odds of sustaining that significance for 15 years—being as likely as the proverbial million-to-one shot, the "underdog" of film festivals is trained, prepped and ready to step into the ring once more.  Taking its cue from the boxing classic "Rocky"—the Best Picture Oscar-winner whose 40th anniversary will open the five-day event with a free outdoor screening in Mid's Park in beautiful downtown Lake Placid Wednesday, June 8 at approximately 9 pm.
Screenings include: narrative features and documentaries; international foreign-language as well as North American English-language movies; a slew of Canadian pictures, including a special double-feature on Saturday afternoon of two highly regarded new films curated by an emeritus Ontario-based film professor and AFS Board Member Tom Hanrahan; a silent film classic—Charlie Chaplin's The Kid—plus a short, with live piano accompaniment by Ben Model, who frequently performs such programs at New York City's Museum of Modern Art; and a special "Essentials" screening of one of the greatest movies ever made, Carol Reed's The Third Man, starring Joseph Cotten and Orson Welles—a program that will be moderated by Jeremy Arnold, the author of the brand new book, The Essentials: 52 Must-See Movies and Why They Matter, which is a tie-in with the popular "Essentials" program that airs Saturday nights on cable TV's Turner Classic Movies (TCM). Following the screening, Mr. Arnold will be joined by producer and former industry exec Larry Jackson, who worked with Welles on his unfinished film The Other Side of the Wind as well as Filming Othello, and AFS Artistic Director Kathleen Carroll, former film critic for the New York Daily News, for a discussion of The Third Man" and what makes a film an "Essential."
Among the documentary features are true-life stories about such subjects as:
The witty, urbane, long-established comedian, Robert Klein, who influenced at least a whole generation of comics who followed him such as Jerry Seinfeld and Richard Lewis, some of whom appear in the film;
The indigenous Onondaga people of northern New York State and their efforts to save and protect the environment of the land and planet that they regard as sacred ground;
Legendary photographer Robert Frank whose work includes a famous shot of the Village Green in nearby Jay, New York, which was published in the New York Times;
Revered filmmaker Sidney Lumet, considered one of the greatest "actor's directors" to work in New York City as well as Hollywood, whose rich output of powerful, gritty contemporary movies includes Twelve Angry Men, Serpico, Dog Day Afternoon, Network and Verdict;
The USA and East German women's swim teams that competed against each other in the 1976 Olympic Games in Montreal, in a narrative that details the triumph of victory and the agony of defeat until it unravels into a tale of tragedy when the East German women are shown to have been enmeshed in illegal doping during the Games; and
A fascinating take on the impact of the digital world on real life by the great German narrative feature director, Werner Herzog, known for such classic works of obsession as Aguirre, the Wrath of God and Fitzcarraldo.
Over the years, the Lake Placid Film Forum has become known for providing an intimate setting for audience members to meet well-known filmmakers as well as other film-industry professional who—while not necessarily household names—are artists of the first order in their craft and often expert at communicating about it. Expected guests this year—in person or, in one case, via Skype—include:
Film critic Marshall Fine, director of the documentary Robert Klein Can't Stop His Leg (scheduled for Sat., 6/11, 8:30 pm at the Palace*);
Gwendolen Cates, the director of The Good Mind, about the Onondaga, with Chief Jake Edwards, who is featured in the film (Fri., 6/10, 9:15 pm & Sun., 6/12, 4 pm at LPCA);
Laura Israel, director of Don't Blink, the Robert Frank doc (Sun., 6:15 pm, LPCA), slated to be accompanied by panelist Nathan Farb, the renowned Adirondack photographer whose footage of Frank giving a lecture is included in the film;
Documentary maven Nancy Buirski, director of By Sidney Lumet, this year's Closing Film (Sun., 8:30 pm, LPCA) is scheduled to introduce her film via Skype;
Fifteen-time Emmy Award-winner Brian Brown, director of The Last Gold, about two very different approaches to Olympic women's swimming (Fri., 7 pm, at LPCA & Sun., 7:00 pm, at the Palace); ans
Pianist-organist Ben Model, who returns to the LPFF following his crowd-pleasing performance at last year's event accompanying a Clara Bow feature and a Charlie Chase short and who, with the Chaplin classic The Kid plus another short, promises to top his previous Film Forum appearance (Thu., 6/9, 7:30 pm, LPCA).
Among the narrative features (or, in the case of Where to Invade Next, strictly speaking a documentary) that will be screened, performers and directors include: Cate Blanchett, Robert Budreau, Andrew Cividino, Stephen Elliot, Ethan Hawke, Todd Haynes, Harvey Keitel, Martin Landau, Guy Maddin, Rooney Mara, Michael Moore, Atom Nagoyan, Christopher Plummer, Paolo Sorrentino and John Turturro.
The organizers of this year's LPFF are excited about the program and ready to roll. AFS co-founder and Chair John Huttlinger says, "We really focused on programming this year, and it has paid off: we have a bounty of great films." Co-founder and Artistic Director Kathleen Carroll agrees: "As has been the case in recent years, it's been the documentaries I've seen in festivals and screenings in New York City that have caught my eye…but it's also been a banner year for Canadian narrative features—and we are featuring both genres." And Vice Chair Nelson Page exclaims, "Given the lineup of films—new, classic and in between—this promises to be one of our best years yet!"
Media Availability
Several of the filmmakers who will be in attendance or whose film will be screened at the Lake Placid Film Forum are available for media interviews, as are organizers of the event. To schedule one or more interviews, please contact Fred Balzac at (518) 588-7275 and/or fredbalzac@aol.com. Thank you!
About the Lake Placid Film Forum
Since its inception in 2000, the Lake Placid Film Forum has been the Adirondack North Country's premier film event. It's one place in the region where resident and visitor movie buffs can count on seeing films they're not likely to encounter at the local multiplex—and meet filmmakers in an up-close-and-intimate setting. The Adirondack Film Society—the people who bring you the Lake Placid Film Forum—doesn't just screen films: it curates, analyzes and seeks to help educate audience members about the films it presents.
The initial multi-day Film Forum proved to be an instant smash hit with filmmakers as well as North Country audiences. Guest filmmakers have included such directors as Martin Scorsese, Jonathan Demme, Paul Schrader, John Sayles and Courtney Hunt (whose critically acclaimed independent film Frozen River was shot in nearby Clinton County); novelists such as Russell Banks, William Kennedy, Jay Parini and Richard Russo, all of whom have had work adapted for the screen; and such actors as Hal Holbrook, Steve Buscemi, James Tolkan, Kyra Sedgwick, Tony Shalhoub, Matthew Modine, Campbell Scott, Parker Posey and Academy Award winners Cliff Robertson (for Charly) and Melissa Leo (for The Fighter).
About the Adirondack Film Society
The Lake Placid Film Forum was inspired in part by a sold-out screening at the Palace Theatre in 1999 of The Sweet Hereafter, adapted from the novel by part-time North Country resident Russell Banks, which was introduced by Mr. Banks, the film director's Atom Egoyan, and Kathleen Carroll, herself a Lake Placid native as well as a former film critic for the New York Daily News. Shortly thereafter, the Adirondack Film Society was born, co-founded by a team that included Ms. Carroll, Lake Placid's John Huttlinger (currently serving as Chair of the AFS board), movie-house impresario Nelson Page (former Chair, now Vice Chair), Naj Wikoff and the late Robin Pell, with active participation from Mr. Banks.
Soon thereafter, the AFS initiated its highly successful Silent Film Series, over four or five successive Thursday evenings in October at the Palace, which continued for several years and featured the bravura playing of the late Jeff Barker on the historic Robert Morton organ at the Palace. Other programs the AFS has launched—these typically during the LPFF—include such segments as workshops and panel discussions with invited filmmakers; North Country Shorts, films made by area residents and/or shot in the region; and Sleepless in Lake Placid, the 24-hour undergraduate student filmmaking competition (the latter two of which are expected to return in 2017).
Between 2000 and 2013, the Film Forum was held every year but one. For 2014, the AFS board made the decision to go a different route and initiated a monthly screening series in partnership with LPCA. The series debuted where the Film Society essentially began—with a retrospective screening of The Sweet Hereafter, with Mr. Banks on hand in person to introduce the film and lead a discussion afterwards.
Other films and filmmakers taking part in the series have included: the documentaries Life Itself," about film critic Roger Ebert, and Stray Dog, by the director of the Jennifer Lawrence feature Winter's Bone, Debra Granik (who appeared at LPCA via Skype); Red Army, a documentary about the Soviet Olympic hockey team, with director Gabe Polsky on hand via Skype;  50 Years with Peter, Paul and Mary, a documentary about the famous folksingers, with director Jim Brown appearing in person at LPCA; a special pairing of Selma and Timbuktu co-presented with John Brown Lives!; the documentary Blues by the Beach, featuring its producers Jack Baxter and Fran Strauss-Baxter in person; the narrative feature The Looking Glass, with its director John Hancock appearing via Skype; and "A Celebration of Orson Welles," marking the centennial of his birth with screenings of two of his later masterpieces, Touch of Evil and Chimes at Midnight, introduced by producer Larry Jackson, who worked with Welles on Filming Othello and the unfinished The Other Side of the Wind.
The AFS Screening Series at the LPCA is scheduled to start its third year in September. This July and August, the AFS will initiate a new screening program at the Strand Theatre in Schroon Lake. Stay tuned (via adirondackfilmsociety.org) for details!
About the LPCA
Nestled in an Olympic village, the Lake Placid Center for the Arts is a year-round treasure to residents and visitors of the Adirondacks and is the premier art and cultural hub of the region. Orchestrating quality programming, performances, rotating art exhibitions, and education experiences to residences and visitors alike, the LPCA provides an ensemble of offerings in music, theatre and dance, and supports local, regional and national artists in its Fine Arts Gallery. At the heart of this hub is hands-on learning experiences for children exploring their creativity and adults finding new passions. As a leading organization, the LPCA collaborates with other Adirondack non-profit partners to build, support and cultivate the arts community. Inspiring excellence in the arts for generations, the LPCA continues to thrive today at its unique and captivating Lake Placid campus.
PHOTO: Robert Klein (L) and Fred Willard in "Robert Klein Can't Stop His Leg" (photo provided).