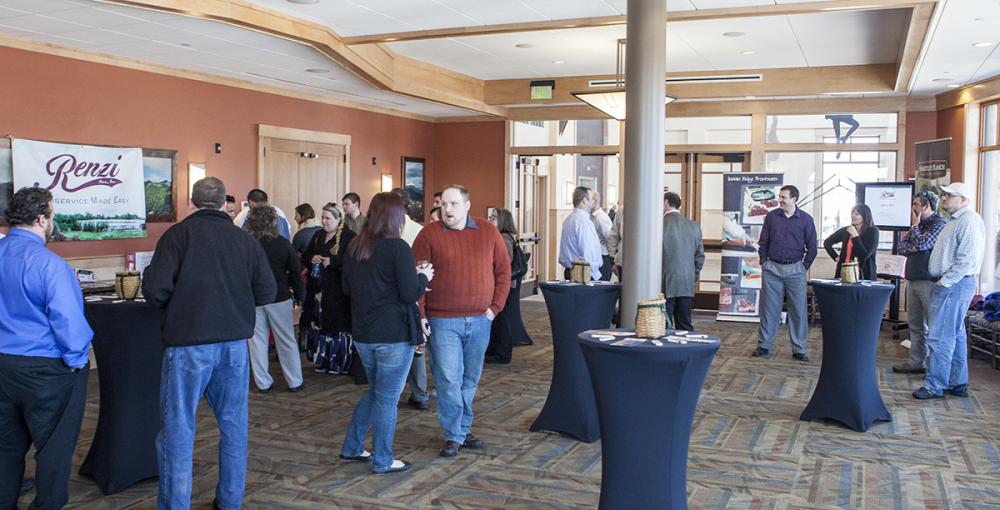 Lake Placid, N.Y. — The Conference Center at Lake Placid has begun its busy spring season and is set to welcome thousands of attendees at events scheduled throughout the year.  
The sales strategy for the Conference Center at Lake Placid is conducted cooperatively by the Regional Office of Sustainable Tourism (ROOST) and the New York State Olympic Regional Development Authority (ORDA). The strategy includes attracting a combination of regional day business, and multi-day, town-wide conferences.
The sales team coordinates hotel bids and proposals, assists groups and attendees in inventing custom programs for meetings and activities, develops comprehensive itineraries and spousal programs and offers centralized accounting and a convenient online reservations system. 
Over four days in April, the Center hosted 375 attendees at the 37th Annual Women, Infants, Children Association of New York State Conference. May activity has already included the RENZI Food Show, with 750 attendees and the Mountain Lake Services Annual Awards Ceremony, a regional one-day event that has been held at the Conference Center since it opened in 2011.
"Our Annual Awards Ceremony is one of Mountain Lake Services' most important celebrations, where we recognize people we serve who have made significant accomplishments and the staff who support them," said Elizabeth Rutkowski, assistant director of community and staff relations at Mountain Lake Services. "We have hosted this large event at the Conference Center ever since it opened. The facility is spacious and nicely appointed, and the Conference Center staff have been very accommodating for our special needs. And to be able to host an event in this scenic town with a storied history is certainly a plus!"
Just as leisure travelers can provide a link to future conference business, the meetings represent a built-in marketing opportunity for the destination, as a conference attendee's positive experience in Lake Placid can drive future visits to the area with friends and family.
"Conference dates target the area's shoulder seasons, filling up hotels and motels during times when those businesses normally would struggle to reach capacity with traditional leisure travelers," said Maryjane Lawrence, director of sales and marketing for the Conference Center. "Plus, many attendees and their guests will take advantage of the come-early-stay-late option to extend their stay in the region."
Regional one-day events fill the flexible space at the Conference Center throughout the year, too. "We're hosting a multitude of day meetings, receptions and special events this year," said Jackie Kelly, conference center coordinator for ORDA. "At this time, we are looking forward to welcoming three weddings, a number of annual fundraising events, a number of receptions associated with summer training at the Olympic venues and registration for the biggest athletic events that Lake Placid hosts, including the Lake Placid Marathon and Ironman Lake Placid."  
Currently scheduled 2015 multi-day conferences are as follows:
June 5-7: Take Off Pounds Sensibly  - 700 Attendees, 500 Room Nights
June 15-18: SUNY Technology Conference - 600 Attendees, 850 Room Nights 
September 9-13: National Ski Council Federation - Familiarization Trip - 80 Attendees, 250 Room Nights
September 18-20: Albany Medical College - Primary Care and Neurology  - 85 Attendees, 120 Room Nights
October 15-16: Student Information & Campus Administrative Systems - 300 Attendees, 450 Room Nights
October 19-24: NY Library Association 125th Anniversary - 900 Attendees,1,200 Room Nights
For more information about the Conference Center, visit www.meetingslakeplacid.com.
###
CCALP FAST FACTS
Over 90,000 square feet of flexible meeting space with 12 breakout rooms.
Full service production kitchen with menus to suit a variety of group programs, tastes and budgets
Full Lighting Systems
Loading Docks
9000 square foot ballroom
In-house security 
Handicapped accessibility
Specialized personnel on call
Controls for lighting, heating and cooling in each individual room
Spectacular setting in the High Peaks of the Adirondack mountains