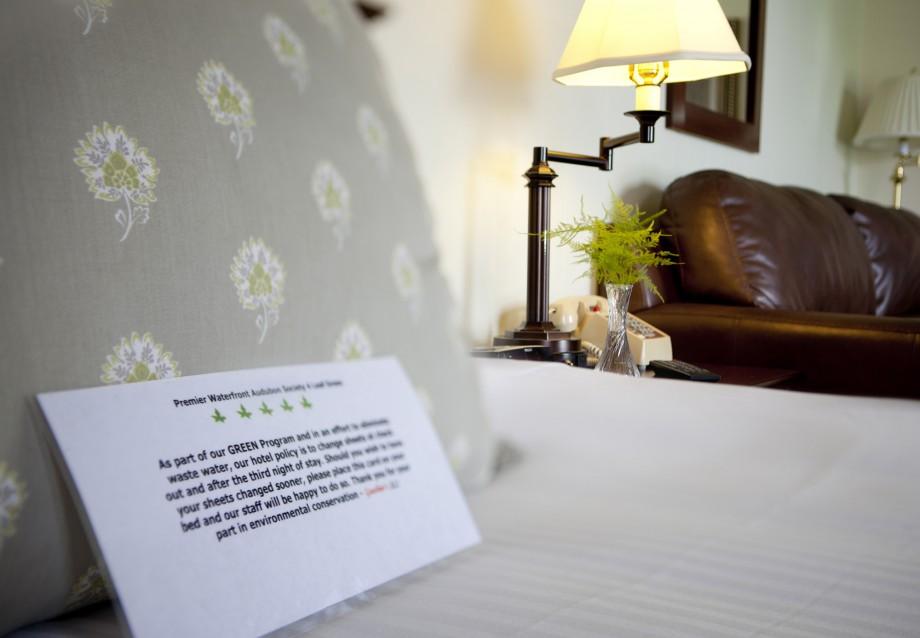 Lake Placid, Adirondacks, New York - The Lake Placid CVB/Regional Office of Sustainable Tourism congratulates Gauthier's Saranac Lake Inn and Hohmeyer's Lake Clear Lodge for achieving Audubon International Platinum 5 Leaf Status, the highest Eco Lodging rating in North America.
This award is reserved only for properties who have met stringent guidelines in energy conservation, natural resource preservation, guest education and outreach. The Golden Arrow Lakeside Resort, Lake Placid, attained Platinum 5 Leaf certification in 2009, the first hotel in the United States to receive this status.
"With only six total properties Nationwide attaining this lofty designation, it is truly remarkable three are located within 15 miles of each other," said Fredrik Realbuto, Green Lodging Program Director, Audubon International. "We believe these three facilities will act as catalysts and examples to be replicated throughout the region, the state, and the country."
"We focus on providing a unique experience for our guests; including the fusion of Green initiatives into their sojourn," said Nicole Brownell, Director of Marketing and Co-Owner, Gauthier's Saranac Lake Inn. "It is an honor to be recognized for our environmental commitment, and further, a compliment to be among properties so committed to the Adirondacks while defining our industry's new sustainability goals."
"Offering a specialized program for healthy and sustainable foods to both our guests and community is a staple of our Lodge," Said Cathy Hohmeyer, Owner and Executive Chef, Lake Clear Lodge and Retreat. "Our three properties are unique themselves, providing an individual Eco acquaintance for all of those who come to the region."
Audubon International offers a rigorous third party certification program for lodging in the United States and Canada. Properties participating undergo a detailed written exam on all of their practices. After completion of the exam, a site visit is conducted by an Audubon representative, with each area of thoroughly reviewed. Renewal for the program is yearly, and educational material is offered to help improve practices.
"The Adirondacks enjoy a very long history of environmental leadership and vision, beginning with the establishment of the Park in 1892," said James McKenna, president of the Lake Placid-based Regional Office of Sustainable Tourism. "The protection of our natural resources works unquestionably to our benefit as a visitor destination, and the fact that three of the highest rated eco-sustainable properties in the country can be found here in the Adirondack Park further positions the region as a world leader in environmental responsibility."
"This is the direction of the future," Said Jenn Holderied, owner and GM of the Golden Arrow Lakeside Resort in Lake Placid. "It is about improving efficiency and lowering costs from a business perspective, but it is also about inspiring your guests and enhancing their experience. What better place to get inspired than in the largest protected wilderness in the United States!"
For more information on Audubon Certification and the above properties Eco Initiatives please visit http://www.lakeplacid.com/lodging/green-lodging and www.auduboninternational.org
###
PHOTO: Three Adirondack properties have been awarded the highest eco lodging rating in North America.